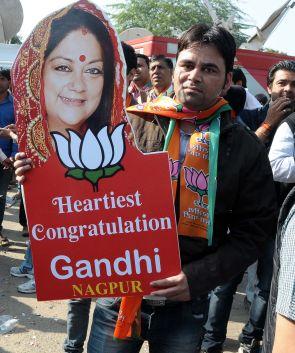 The Bharatiya Janata Party has not only decimated the Congress in the Rajasthan assembly polls but, for the first time, will have two Muslim legislators whereas the Congress will have none.
In the 2008 assembly polls, the Congress had ten Muslim MLAs while the BJP had two.
Like in 2008, this year too the saffron party had fielded four candidates from the community. Two of them, Yunus Khan and Habibur Rahman from Deedwana and Nagaur constituencies have won.
"The Congress has always been creating fear among Muslims either in the name of the Rashtriya Swayamsevak Sangh or Narendra Modi, but now Muslims have understood their politics," said Ameen Pathan, the state president of BJP's minority wing.
"When the Ashok Gehlot government came to power they had promised Muslims safety, education and employment. They have failed on all three fronts," added Pathan.
The anti-Congress wave has not even spared ministers from the minority community like Health Minister AA Khan and Minister of State Naseem Akhtar.
In Tonk, which has a large number of Muslim voters, incumbent MLA Zakia could not even save her forfeited amount.
Zahida Khan, another big name in the Congress party, could not save her seat from Kama constituency. This is the area where the Gopalgarh incident had taken place in which ten Meo Muslims were killed in police firing.
"Ashok Gehlot did not take proper action against the accused officials, he also did not appoint a chairman for several minority related boards and commissions. In some cases where he made appointments, he chose wrong people whose acts did not benefit the community and cost the party dearly," said Asfaque Kayamkhani, a social activist.
"Probably for the first time in Rajasthan's history, there won't be a Muslim MLA from the Congress in the assembly," Kayamkhani added.
Image: BJP supporters celebrate their victory in the Rajasthan Assembly elections. Photograph: Chandra Mohan Aloria