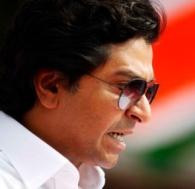 It seems the Bharatiya Janata Party proposes but the Maharashtra Navnirman Sena disposes.
MNS chief Raj Thackeray has snubbed the BJP for unilaterally making statements to rope in his party to forge a grand alliance in Maharashtra, without holding any formal talks in this regard.
He also hinted that he is not so 'desperate' to join the BJP-led National Democratic Alliance) in the run-up to the Lok Sabha elections.
He curtly asked BJP leaders to concentrate on their own party's growth, instead of sending signals through the media about forming a Shiv Sena-BJP- Republican Party of India alliance in the state.
Curiously, Thackeray's remarks have brought relief to the ruling Congress-Nationalist Congress Party alliance, which is struggling to survive the anti-incumbency factor and corruption charges.
Maharashtra Pradesh Congress Party chief Manikrao Thackeray termed MNS as a "small party", while NCP spokesman Nawab Malik said the MNS will turn a spoiler.
The stand taken by Thackeray comes at a time when BJP's former president Nitin Gadkari, BJP's deputy leader in Lok Sabha Gopinath Munde and its Maharashtra unit chief Devendra Fadanvis have been openly favouring MNS' association as it would help take on the ruling Congress-NCP alliance. These leaders recently held meetings with Thackeray to pursue their agenda.
Besides, Phadanvis had recently admitted that defeating the ruling alliance in the Lok Sabha elections and later in the state assembly polls will be easier after MNS' entry into the Sena-BJP-RPI alliance.
Thackeray clarified that BJP leaders, who made a courtesy call, never made any formal offer on MNS joining the Sena-BJP-RPI alliance.
Thackeray was not available for his comment as he was travelling.
However, one of his close associates and a party functionary, who did not want to be named, said, "For Raj Thackeray, the BJP is not untouchable but he was strongly displeased with BJP's desperation and the party spreading news about forming an alliance with the MNS. Further, Raj has already clarified that there was no truck between the MNS and the Shiv Sena."
The BJP feels that any division in votes may spoil their efforts to defeat the Congress and the NCP.
In Maharashtra, the Congress-NCP alliance got the majority of the seats (25 out of 48) in 2009 Lok Sabha elections, despite its vote percentage going down by 3.2 per cent compared to 2004. The MNS cut into the vote of the Shiv Sena-BJP alliance, which helped the Congress win more seats.
Subsequently, in the state assembly elections held in October 2009, MNS won 13 seats and polled around 5.7 per cent of the state's vote, eating into the Shiv Sena's share, and in some places, the NCP's vote share as well. The Sena was the worst-hit, losing 3.7 per cent of its support since the last Lok Sabha polls.