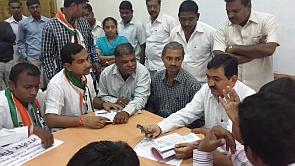 Nationalist Congress Party workers in Pune on Friday agitated outside the Maharashtra State Secondary and Higher Secondary Education Board Education Board against dropping of party president Sharad Pawar's name from the text books.
The board officials promised to rectify the error and put Pawar's name by June 29. Workers of the party's student wing, Nationalist Students Congress Party gathered outside the board's office in Shivajinagar and protested against the deletion. They shouted slogans against the board.
Rakesh Kamthe, city president, NSCP said, "The board has included chapters on the political parties in Maharashtra in the text books of Social Science Part-1 (history and civics). In this chapter, every national and regional party has been included but only Pawar has been left out. The book has even information about Kanshiram and his Bahujan Samaj party, Balasaheb Thackeray and Shiv Sena as also Raj Thackeray and Maharashtra Navnirman Sena, which was formed seven years after the NCP."
The board conveniently forgot to mention Pawar, who is the national president of the number one party in Maharashtra and a prominent party in the country, claimed Kamthe. They were also enraged at the way NCP was projected as 'other parties were given prominent place in boxes while information of NCP was given in cursory form'.
After about an hour of agitation, Krishnakumar Patil, the publisher of the book, promised to rectify the error within one month. The distribution of the book was also stopped immediately.
However, the party workers demanded that stern action should be taken against the members of the civics study board which prepares the text book. Kamthe and 68 other workers were booked under section 68A of the Indian Penal Code and a complaint was filed against them in Deccan police station.
Picture: Workers of the student wing of NCP talking to Krishnakumar Patil, the officer of Maharashtra State Secondary and Higher Secondary Education Board.