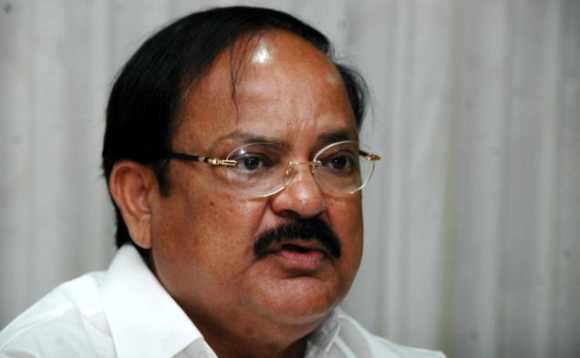 In an indirect reference to the Janata Party-United raising objections on announcing Narendra Modi as the Prime Ministerial candidate of Bharatiya Janata Party, senior saffron party leader M Venkaiah Naidu on Wednesday said it is not appropriate for the ally to comment on the Gujarat chief minister now.
"BJP has not discussed about prime ministerial candidate. The alliance partners have got every right to have their own view. They can also suggest (on the prime ministerial candidate issue)," Naidu said.
"But it is unfortunate on the part of one of my allies to make a comment on the chief minister of Gujarat which is not healthy. They have got every right to have suggestion about the candidature. But it will not help the cause of the non-Congress movement in the country," he said.
The BJP would take a call on its prime ministerial candidate at an appropriate time and no individual's name has been discussed yet, he said. Maintaining that there has been an upsurge of support for the BJP across the country, he said Modi is the most popular leader in the country now.
Dismissing the talk about emergence of Third Front, Naidu maintained that such a front is a "permanent mirage." "That regional parties would form government is a myth. Third Front is a permanent mirage," he said.
Citing the examples of governments led by V P Singh, United Front and I K Gujral, he said the Third Front experiment has always failed.
There are contradictions and serious differences among various parties at the regional level like the Samajwadi Party and the Bahujan Samaj Party in Uttar Pradesh, Naidu wondered how can such regional parties come together.
The formation of government by coalition of regional parties in the form of a Third Front may not be good for the polity too, he said.
Claiming that public wanted the Congress-led government to go as early as possible, Naidu said the National Democratic Alliance would also emerge stronger after the Lok Sabha elections with several parties joining the Bharatiya Janata Party-led coalition after the polls.
"We are confident that BJP would win over 200 seats. People want the Congress to go as early as possible. They want BJP," he said. The surveys conducted by some news channels also pointed to the growing strength of BJP, though such surveys may or may not come true, Naidu said.
Referring to the comments of Union Minister Sharad Pawar that United Progressive Alliance government has become vulnerable, Naidu said that the BJP is getting ready for elections.


Even in Andhra Pradesh, there has been tremendous response to the interactive sessions being organised by the BJP across the state, he claimed.