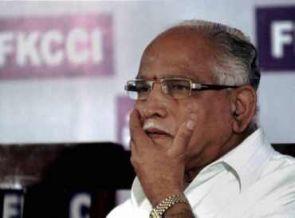 Notwithstanding intensified efforts by BJP's Karnataka unit to bring him back to the party, B S Yeddyurappa on Monday said none from central leadership had contacted him. He, however, said his priority was to work in the Karnataka Janata Paksha for the forthcoming Parliamentary elections.
In the just concluded executive committee meeting of the KJP, the party sent across mixed signals on the issue. On the one hand KJP leaders authorised Yeddyurappa to take any decision he wanted and on the other hand they resolved to fight the Parliamentary elections with vigour.
"I have not received any such message," he told reporters after the Karnataka Janata Paksha's executive meeting, amid reports that BJP central top brass had decided to invite him following efforts by state leaders.
His party members have told him not to commit anything to the BJP unless there is an official written communication. The party workers also felt that it would be better if they allied with the BJP instead of merging with it.
Yeddyurappa said he would launch a state-wide KJP campaign from December 20.
Yeddyurappa rejected reports that he had been putting conditions and said, "I have not asked for any favour from central leaders.
"I will take an appropriate decision at the appropriate time," he said on repeated queries about his return to BJP, which he deserted before forming his own outfit at Haveri exactly a year ago.
Yeddyurappa, whose party garnered 10 per cent vote share in the May 5 Assembly polls that eased BJP out of power and brought Congress back at the helm, said, "I have not received any message (from BJP central leaders). I will wait...See what exactly is in their minds and then we will decide."
Yeddyurappa, who headed the BJP's first ever government in the south, turned a rebel after he was forced to resign in as chief minister in 2011 following his indictment in the report on illegal mining by the then Lokayukta.
The KJP leader said he had written to NDA Chairman L K Advani expressing his party's intention to be part of the BJP-led combine but had not received any reply so far.
Yeddyurappa said he was an admirer of Gujarat Chief Minister Narendra Modi and he, as also the state leadership, had played important roles in BJP pulling out hattrick in the Assembly polls in Madhya Pradesh, Rajasthan and Chattisgarh.
Earlier, he told the state executive meet that he had not even spoken on phone to any central BJP leader.
Yeddyurappa also praised Aam Admi Party's dream debut in Delhi Assembly elections, saying its leader Arvind Kejrival had set an example and showed that any bonafide struggle for people would always pay dividends.
He also had a word of praise for Congress President Sonia Gandhi and her deputy Rahul Gandhi for their "courage" in accepting the Assembly polls verdict and declaring that they would build the party despite its decimation in elections.
With inputs from PTI