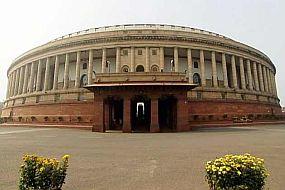 Rajya Sabha failed to transact any business for the second day on Thursday after uproar by members over the Telangana issue, killing of a student from Arunachal Pradesh in Delhi and plight of Tamil fishermen.
The Upper House saw two adjournments in the pre-lunch sitting and was finally adjourned for the day minutes after it met at 2 pm.
Soon after the House met for the day, members of different parties demanded a discussion on the death of Nido Taniam after he was beaten up in the national capital last week.
As Chairman Hamid Ansari agreed to the discussion, Ravi Shankar Prasad of the Bharatiya Janata Party rose to speak but All India Anna Dravida Munnetra Kazhagam members rushed to the ell demanding a discussion on the arrest of Tamil fishermen by the Sri Lankan navy.
Carrying placards, Telugu Desam Party members also came rushing to the Well opposing the bifurcation of Andhra Pradesh.
Ansari pleaded with the agitating members to respect the dead. However, as din continued, he adjourned the House till noon.
When the House reassembled, TDP members C M Ramesh and Y S Choudhary trooped into the Well opposing any move to carve out a separate Telangana from Andhra Pradesh. They were carrying placards of 'Save Andhra Pradesh'.
AIADMK and Dravida Munnetra Kazhagam members too rushed to the Well protesting against the arrest of Tamil fishermen by the Sri Lankan navy and displayed placards saying 'Save Tamil Fishermen'.
The Samajwadi Party, Left and Akali Dal members were also on their feet raising various issues, which could not be heard in the din.
Bharatiya Janata Party members highlighted various scams, including fresh revelations by a middleman in the AgustaWestland VVIP chopper dead, while those from Asom Gana Parishad and others raised the issue of safety of northeast students.
As pandemonium continued, Deputy Chairman P J Kurien adjourned the House till 2 pm. When the Rajya Sabha reassembled, similar scenes were witnessed. Sensing the mood of the members, Kurien adjourned the House for the day.