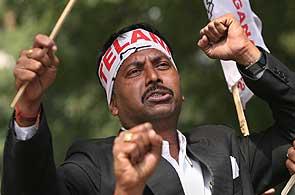 The Congress will give a go-ahead to the T-bill after the Rajya Sabha poll results for the six Andhra Pradesh seats are out on Friday, reports a correspondent.
The Andhra Pradesh Reorganisation Bill that deals with bifurcation of the state may not be ready for passage yet.
The Group of Ministers on Telangana is scheduled to meet at 1 pm on Thursday in the Union home minister's chamber in North Block to discuss Bill.
The Congress's strategy is to get the bill passed in the Rajya Sabha and then try its luck in the Lok Sabha, where it is unsure of the Bharatiya Janata party's support for it. This, say sources, is the GoM's face-saver plan, as the Rajya Sabha's okay will keep the Bill alive for the 16th Lok Sabha.
Depending on the results of the RS polls to be held on Friday, the Congress will consider including the demands of the Seemandhra MPs, who are against the creation of a separate state, in the draft Bill, sources told rediff.com.

In a last-ditch effort to prevent Hyderabad from being a part of Telangana, Union ministers from the Seemandhra region on Wednesday urged the GoM to make the city a Union territory and divide its revenue between Telangana and residuary Andhra Pradesh.
The Congress core committee will review the Rajya Sabha elections results from Andhra Pradesh, which will be announced on Friday evening, and signal whether to go ahead with the Telangana Bill from Monday onwards or not.
A lot depends on the moves of Andhra Chief Minister Kiran Kumar Reddy after the RS election results are declared. There are six vacancies in the Rajya Sabha from Andhra Pradesh, which are expected to be filled by then.
The fate of Keshav Rao, who is fielded by the Telangana Rashtra Samithi, is crucial. If he is defeated, the TRS-Congress alliance will not move forward. If he wins, Reddy's luck will be tested and the Telangana Bill is likely to move fast.
While Kiran Reddy's emergence is cause of concern for Congress Vice President Rahul Gandhi, what has come as a relief for the Nehru-Gandhi scion is the Andhra CM putting a stop to the YSR Congress chief Jaganmohan Reddy, a senior Congress leader told rediff.com.

Image: A Pro-Telangana supporter participates in a demonstration in New Delhi