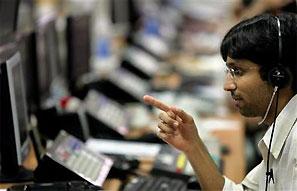 Taking strong exception to Commerce Minister Anand Sharma's reported comments that the Opposition is frightening away foreign investors, senior Bharatiya Janata Party leader Murli Manohar Joshi said, "It is not the BJP or Opposition parties but the unsound economic policies of the government and failure of providing any congenial atmosphere free from corruption is the root cause."
Joshi further said "inefficiency" in UPA dispensation's functioning and lack of firmness of policies are responsible for repelling investors and not the statements from the Opposition parties.
"The minister should desist himself from such tactics of transferring his own failures to the Opposition parties and should not make a total handover of the vibrant Indian bazars into the hands of global retailers," he said.
The BJP maintained that stability in economic growth and economic policies of the government along with strong currency attracts foreign investment.
"Unfortunately on both these counts, the government has failed miserably. Rampant corruption and gross nepotism in the administrative system under the control UPA government has tarnished the image of the country at the international level," Joshi said.
BJP charged that passing the buck on the BJP and Opposition parties is "nothing but a cover-up exercise" by Sharma.
"May I ask the Hon'ble Commerce Minister to explain why Indian businessmen are moving out of India? The BJP is not threatening them. The fact of the matter is that due to unsound fiscal policies and rampant corruption, UPA government itself has become the biggest threat to the investment environment," Joshi said.