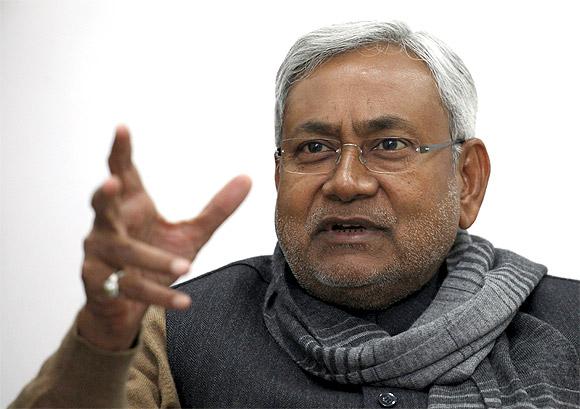 Despite facing stiff opposition, two candidates from the ruling party in Bihar, the Janata Dal-United, have won the Rajya Sabha by-polls with the support of the Rashtriya Janata Dal party.
The JD-U candidates -- Pawan Verma and Ghulam Rasool Balyavi -- were elected as Rajya Sabha members, fending off the competition from independents backed by rebels and the Bharatiya Janata Party.
While Balyavi received 123 votes, Verma with 122 votes defeated Sabir Ali and Anil Sharma respectively. A total of 230 of 232 legislators cast their votes. According to JD-U leaders, 18 to 20 of its rebel legislators voted the independent candidates.
JD-U's victory in the by-polls comes as a huge relief for the party, including former chief minister Nitish Kumar. "The BJP was hell bent on defeating the party," said JD-U leader Neeraj Kumar.
After the victory, hundreds of party workers celebrated by distributing sweets and bursting firecrackers. Some JD-U workers also staged a protest against party rebel legislators Gayanu Singh and Poonam Devi.
The JD-U was facing a tough task to ensure that its nominees win the by-elections amid some of its rebel legislators announcing they will support two independent candidates.
However, things turned around for the party when RJD chief Lalu Prasad Yadav announced his party's support to the JD-U.
And the decision to support the JD-U might be a sign of a realignment between the two parties. JD-U president Sharad Yadav was last week declared elected unopposed to the Rajya Sabha. Yadav had earlier lost the recent Lok Sabha election from Madhepura constituency in the state.