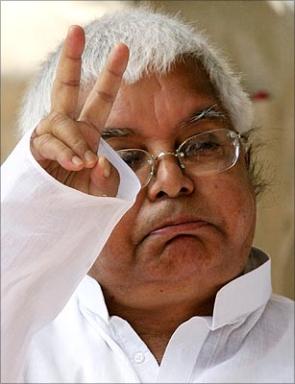 Ignoring strong reservations by some senior party leaders and members of Legislative Assembly, Rashtriya Janata Dal chief Lalu Prasad on Wednesday announced his party's support to the ruling party's two candidates in the Rajya Sabha bye-election. "The RJD will support JD-U's two candidates in the Rajya Sabha bye-election to defeat the Bharatiya Janata Party's designs in Bihar," Lalu said at a press conference after holding a meeting of the RJD legislature party.
The RJD has 21 MLAs that would vote for the JD-U's two candidates in the Rajya Sabha bye-election on June 19. Former Bihar chief minister Nitish Kumar on last Saturday had said he has appealed to the RJD to support JD-U candidates in the Rajya Sabha bye-election to defeat the BJP. "I have also talked to Lalu over this matter." Nitish had then said.
It was probably the first time in the last two decades that Nitish has publicly admitted that he sought support from the RJD chief after they parted ways in 1994. At a time when two dozen of JD-U rebel MLAs boycotted the party legislature meeting on Tuesday night, Lalu's decision to support the JD-U to bail out the ruling party is bound to open a new chapter of future realignment of political forces opposed to the BJP in the state.
According to JD-U leaders, 24 of 117 JD-U MLAs boycotted the crucial legislature party meeting to chalk out strategy for the Rajya Sabha by elections. These MLAs have made it clear that they would not support the party's official candidates.
The JD-U is facing a tough election as its rebel MLAs have challenged the party's official candidates with likely support of 84 BJP MLAs. Interestingly, Lalu has extended support to JD-U three days after he stated that 'Nitish Kumar is clamouring for fire-tenders as his house is on fire, the fire has been caused by his own party men'
The RJD's suuport has come as a big relief to ensure that its candidates -- Pavan Verma and Ghulam Rasool Balyavi -- win the bye-election. The BJP has yet to announce its official stand to support the two Independent candidates fielded by the rebel JD-U legislators. It is likely to make its stand clear only on Wednesday night.