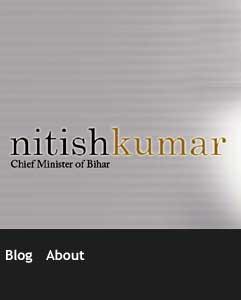 After a gap of nearly two years, Bihar Chief Minister Nitish Kumar on Friday returned to blogosphere to announce the steps taken by the state government to encourage girl's education in the state.
"I am glad to be back here again. It feels great to share my thoughts with people living in different parts of the world," Kumar stated in his blog.
He described the measure by the state government -- to provide scholarships across the board for girl students from Class I to Class X -- as a revolutionary one.
"This, in my opinion, is a revolutionary step which will give a tremendous boost to women's education in the state," Kumar said in his blog.
"It is in keeping with my government's thrust on women's education that I resolved to give women's education a further boost through the scholarship scheme. This scheme may well turn out to be an equally significant decision not only because it will encourage families to send their daughters to school but also because it will act as a catalyst for social change in the long run. I have always believed that educating a girl means educating an entire family," he said in his new post.
He said the new scholarship scheme will give a tremendous fillip to their education.
"I hope more and more girls will avail of this new scheme and join schools. As I told you, an educated girl means an educated family," Kumar said.
He recalled how the state government's scheme to provide cycles to schoolgirls in Bihar "saw a drastic increase in the enrollment of girls and brought a new found confidence in them leading to a social transformation. The scheme has now been extended to cover all students of class IX. Prior to implementation of the scheme, a large number of girls used to drop out of their schools after Class VIII. But these schemes reversed the trend".
"That cycle scheme brought about a social revolution and made the cycle-riding schoolgirls a veritable mascot of Bihar, especially in the rural areas. The success of that scheme could be gauged from the fact that altogether 9,61,109, including 4,92,899 girls, availed of the scheme in 2012-13," Kumar said.
Kumar claimed that the bicycle project had "indeed heralded a silent revolution in the hinterland of Bihar as far as woman empowerment is concerned. It had instilled a sense of confidence in the girls. The sight of the groups of girls going to their schools from their villages on their bicycles bears ample testimony to that. It is kind of a social revolution which has altered the way girls' education has been looked at in Bihar, historically. I am certain the impact of this revolution will be felt in the long run when women would be truly empowered. An empowered woman makes a vibrant society".