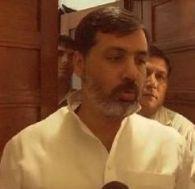 Bahujan Samaj Party MP Dhananjay Singh and his wife Jagriti, arrested in connection with the murder of their maid, were on Saturday remanded to two-day police custody by a Delhi court after police told a court in New Delhi that they have to confront them with recordings of CCTV footage regarding the identity of some unidentified persons seen in it.
Dhananjay, BSP MP from Jaunpur constituency in Uttar Pradesh, and Jagriti, a dental surgeon at the R M L Hospital in the national capital, were produced before Metropolitan Magistrate Jasjeet Kaur after expiry of their judicial custody and the Delhi Police sought four days of police custody for interrogating them regarding the unidentified persons.
Dhananjay and Jagriti were arrested on November 5 in connection with the death of their 35-year-old maid Rakhi Bhadra, a resident of West Bengal.
Additional Public Prosecutor Mukul Kumar told the court that police custody is required to confront the two accused with the Digital Video Recordings of CCTV footage in order to ascertain the identity of certain unidentified persons figuring in it.
The prosecutor said the recordings pertains to 20 CCTV cameras installed at 175, South Avenue residence, where the incident had taken place, and runs into about 2,000 hours.
The advocates, appearing for Dhananjay and Jagriti, opposed the police's plea saying they have already interrogated both the accused for five days in their custody and further custodial interrogation is not required.
Senior advocate Hariharan, who appeared for Dhananjay, argued his client was not residing at 175, South Avenue for the last two years and he was not even in Delhi between November 1 to November 4 when the alleged incident took place.
The court, however, remanded both the accused to police custody till November 18 saying the police need to ascertain the identity of these unidentified persons figuring in the CCTV footage.
"I have considered the submissions of Additional Public Prosecutor and counsel for the accused persons. Allegations against the accused persons are serious in nature. From the material on record, it is evident that opportunity has not been given to the investigating agency to confront the two accused persons with the DVRs handed over to the investigating officer by accused Dhananjay Singh in order to facilitate custodial interrogation of accused persons for ascertaining the identity of unidentified persons...
"Accused persons are remanded to police custody for two days," the magistrate said.