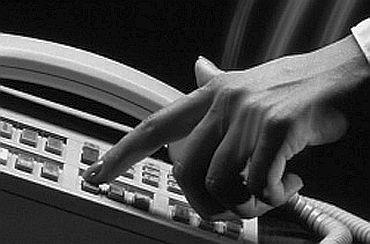 The National Investigation Agency has approached the Department of Telcom requesting for installation of Central Monitoring System, a mechanism which provides for interception of telephone calls and monitoring of social networking sites without any involvement of telecom service providers.
A letter written by Inspector General (Intelligence and Operation) Loknath Behera to Deputy Director General (Security) Ram Narian requested for installation of the CMS facility for the organisation once its fully functional.
Officials of the NIA, which was set up in the aftermath of 26/11 Mumbai attacks, had a series of meetings with Centre for Development of Telematics (C-DoT), an organisation which has been tasked by the government to build the CMS project.
The C-DoT's CMS provides call interception, monitoring, analysis of social networking of the target data and ensures end-to-end secured work flow as per the requirements of law enforcement agencies to address threats and unlawful activities of anti-social elements.
The NIA informed the DoT that some of its officials had attended training for Central Monitoring System at one of the C-DoT facility.
"NIA is keen to get connection of CMS project once it is fully functional. We have been advised by the C-DoT to get an approval from DoT...its, therefore, requested that  approval for connection of CMS project may be accorded in favour of NIA," the letter said.
At present, NIA is tapping eight phones out of which two were added recently in the month of August. C-DoT was appointed as the nodal agency for the Central Monitoring System project which was started at an estimated outlay of around Rs 170 crore by the government in the aftermath of leak of tapes related to conversation of corporate lobbyist Neera Radia.


The difference between the existing and the proposed interception system will be the inbuilt facility in the CMS to switch off the connection of the intercepted line from the service provider, thus blocking any possibility of either leakage of information or the interception of conversations from that end.
At present, all service providers are expected to provide interception links -- after being given authorisations signed by the Home Secretary -- to nine intelligence and investigating agencies.
Under the centralised system, there would be a convergence of all intercepted lines at one location, which will be manned round-the-clock by officials of the nine agencies.
However, in the CMS mechanism, the Department of Telcom will have complete control of a tapped line and telecom firms will have no access to the intercepted line.