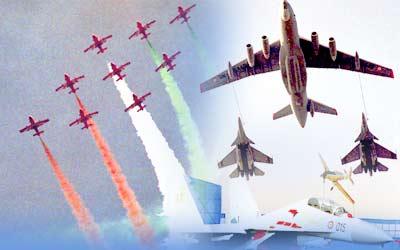 Captain Satish Sharma -- the former Union minister and Lok Sabha member from Rae Barelli -- will be take part in India's first air race being organised between November 20 and 22 to mark 100 years of aviation.
The air race is a nationwide celebration of the 100 years of aviation.

It was in 1903 that the Wright brothers flew their Wright Flyer in Kitty Hawk in the United States, and thus kick-started aviation history.

The air race is our way of paying tribute to the breakthrough achieved by the Wright Brothers. Celebrations are taking place all across the world this year to mark the occasion.
The race is being organised by the civil aviation ministry, the Indian Air Force, the Aeronautical Society of India, the Aero Club of India of which I am the president, and other institutions. This is the first time in India that such a race is happening.
The race will have a variety of aircraft, from hand gliders to helicopters to fixed-wing aircraft, multi-piston planes to even a jet. We would also have a variety of participants, from pilots of the Indian Air Force, Navy and Army to adventure enthusiasts, professional pilots and others.
We will have a handicap system to select the winners. It is going to be the pilot's ability, and not that of the aircraft, that will  decide the winner.
The race will help us celebrate aviation and spread awareness about it around the country.
Aviation Minister Rajiv Pratap Rudy will also fly in one of the aircraft. Air Chief Marshal S Krishnaswamy is also actively involved. In fact, it is on the air chief's suggestion that I decided to fly myself. He said the race was looking like a military affair because the majority was military pilots.
I will fly a Beechcraft King Air C-90 from Barrackpur to Bihta, an Indian Air Force base near Patna, and from there to Ranchi, Gorakhpur and finally to Nagpur, where the race ends on November 22. The race starts on November 20 simultaneously from Barrackpore in the east, Bangalore in South and Goa in the west. A co-pilot will accompany me.
Some 51 aircraft are expected to participate. The Indian Air Force is providing fuel, stay etc for the pilots. We will use some 25 IAF airfields during the race.
There are many civilian pilots like me in the race. We will fly for three days. The grand finale will be in Nagpur when flights originating from far corners of the country meet there.
Captain Sharma spoke to Chief Correspondent Josy Joseph