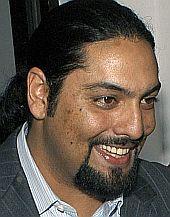 Nepal's former crown prince, notorious for his playboy lifestyle, allegedly opened fire on the newly-wed daughter and son-in-law of Deputy Prime Minister Sujata Koirala at a tourist jungle resort.
The 38-year-old Paras Shah allegedly opened fire in the air after getting into a verbal duel with Melanie, Sujata's daughter, reportedly after a late-night drinking session.
According to close friends of Sujata, the firing took place at Tiger Tops Resort at Chitawan National Park in southern Nepal as Melanie and her Bangladeshi husband Subel Chaudhary got into a heated argument with the former prince.
The friends, who preferred not to be named, said a drunk Paras had opened fire holding Sujata's father late Girija Prasad Koirala responsible for hatching the conspiracy to abolish monarchy.
Though no official complaint has been filed so far, the news of the incident dominated newspaper front pages in Nepal on Monday.
The former crown prince is notorious in the country for similar escapades in the past. Paras in a statement on Monday admitted firing his gun into the air over two guests at the resort, who he claimed had said negative things about his former role and the institution which he represented.
Witnesses at the famous resort said Paras, who was accompanied by his wife and young son had to be escorted out from the dining hall for shouting at the guests.
Nepalese media quoted witnesses as saying that the former crown prince had fired as many as five times in the air.
Nepal's almost three-century-old monarchy was abolished in 2008 when Paras's father Gyanendra Bikram Shah had to give up his throne. Paras, who was the crown prince moved to Singapore. But he has returned to Nepal recently where his wife has launched a fund to help deprived women, in a move widely seen as an attempt to rehabilitate the family's public image.
A spokesman for the Tiger Tops refused to comment on the incident and Nepalese police spokesman Bigyan Raj Sharma said that he has no information about the incident and they were trying to find out the truth .
Sujata, who was in Singapore reportedly telephoned Nepalese Home Minister Bhim Rawal to look into the matter and take legal action against Paras, according to The Kathmandu Post.
Image: Nepal's former Crown Prince Paras