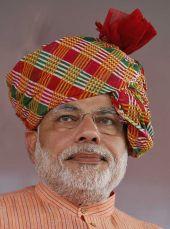 Gujarat Chief Minister Narendra Modi on Wednesday congratulated Rajnath Singh, who is all set to return as the Bharatiya Janata Party national president.
In a day of dramatic developments capped by Nitin Gadkari's resignation, Rajnath Singh emerged as the frontrunner in the BJP presidential poll battle.
Modi tweeted: "I called up Shri Rajnath Singh ji & congratulated him. He brings with him vast experience of both organisation & administration."
Today is the last day of filing nominations for the BJP polls and Rajnath Singh is likely to be nominated for the post this evening itself.
Singh's name will be endorsed by BJP parliamentary board which is having its meeting on Wednesday.
All the members of parliamentary board have reached the party office for the meeting.
Gadkari had till Tuesday afternoon appeared certain to be re-nominated, but resigned from his post in the evening and ruled out seeking a second term in office.
Gadkari, who was billed for re-election as party chief, has been in the eye of a storm after the income tax department raided the offices of his Purti group of companies for financial irregularities and its fictitious investors firms.
Gadkari said that he did not want questions on his integrity to undermine the sanctity of the BJP's top post.
"I want to wait until the enquiry is complete. I decided that until I am proved innocent, I will not seek a second term. The party must look for a new leader, and I will support and cooperate with whoever is chosen by the party. I am convinced that I am not directly or indirectly involved in any act of corruption. When the enquiry is complete, I shall emerge with my image untarnished," he said in Mumbai.
The BJP has alleged that ruling Congress Party misused the income tax department to target opponents as it had done with the federal police, the Central Bureau of Investigation.
Gadkari also brushed aside any speculations of friction within the party, saying that he had the support of senior leaders as well as the party rank and file.