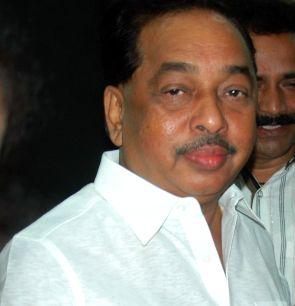 After Maharashtra Home Minister R R Patil said the government would examine Nitesh Rane's controversial statement about Gujaratis living in Mumbai and take action if he was found guilty, Nitesh's father, state Industry Minister Narayan Rane, on Monday rushed to his defence.
"What Nitesh said was not against the Gujarati community or Jain community, but only against those lavishing baseless praise on Gujarat Chief Minister Narendra Modi," Narayan Rane told reporters in Mumbai.
"We won't tolerate anyone praising Modi at the cost of Maharashtra. We are not opposed to Gujaratis. I have good relations with them," Rane said.
He termed comments by his son Nitesh as "theek" (alright), adding that they had been distorted. "He only said those who want to hail Modi should go to Gujarat," the former chief minister said.
"We won't tolerate anyone betraying Maharashtra," Rane said. "Maharashtra is ahead of other states in industrialisation," he said, supporting his statement with figures of other states.
The minister said he has advised his 31-year old son to exercise caution while posting views on micro-blogging platforms like Twitter.
"I have done my duty, as a father and as party leader. I have also put forth the party's views. I also showed how Maharashtra is ahead of Gujarat," Rane said.
Nitesh Rane, who heads the Swabhimaan Sanghatana, had recently tweeted that Mumbai-based Gujaratis who admire Modi's performance are free to go back to their native state, but later clarified that he had not targeted every Gujarati.
"I only said those who feel Narendra Modi is doing a good job can move there (Gujarat)," he said, adding his remarks were "not aimed against all Gujaratis, but only at those who felt there is more development in Gujarat".
Narayan Rane also targeted state Bharatiya Janata Party president Devendra Fadnavis, who had alleged that the former was "frustrated" and was "using" his son Nitesh to voice his "frustration".
"Fadnavis lacks the competence and ability to call me frustrated. I am capable. I have no need to use someone else's shoulders to fire," Rane said.
"I am not a liability for the Congress, but I am (among) its main campaigners. I have worked to improve its image," Rane said.
"BJP uses Lord Ram and Gujaratis for vote politics," the minister said.
He said that BJP MLA Mangal Prabhat Lodha had demanded that South Mumbai be declared a "vegetarian zone" and another BJP leader Kirit Somaiya had said that Marathi should not be made compulsory in the Mumbai civic body.
"Does Fadanvis agree to what his party leaders have demanded," Rane said.
He urged the state home minister to look into these remarks by BJP leaders as well besides examining his son's controversial comments.
"I have taken a political stand. I have stated clearly that people living in Mumbai who feel that Gujarat is developing better than us (Maharashtra) or those who feel that Modi is developing Gujarat better than us, why don't they go there," Nitesh had said.
"I didn't say that all Gujaratis are like that. I didn't say we will drive (Gujaratis) out (of Mumbai)," he had added.
On his tweet about Gujarati-dominated housing societies favouring only vegetarians, Nitesh said, "I said there are many housing societies in Mumbai which don't allow non-vegetarians (to become members)."
"Veg skies, veg hospitals, veg housing societies. Soon veg Mumbai! Either Gujjus go back to Gujarat or they turn Mumbai into Gujarat. Red alert," Nitesh had tweeted earlier.
Image: Maharashtra Minister Narayan Rane
Photograph: Sahil Salve