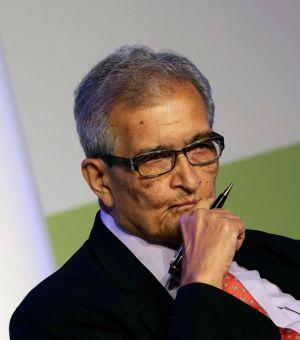 Noble laureate economist Amartya Sen, the chancellor of Nalanda University in Bihar's Nalanda district, has questioned the interpretation of the upcoming university as another central university rather than an international institution.

"It is wrong to interpret Nalanda as another central university as it will be in contradiction with the parliamentary act and India's assurance to other countries" he said on Tuesday in Patna.

Sen further said that it will also end the likelihood that "our own financial commitment to building this very special university will be increasingly supplemented by contributions coming from other countries as well as within India".

According to the Nalanda Act, 2010, Nalanda University has been described as an international institution. But the recent Union finance ministry's queries have virtually equated it with central universities.

The next meeting of the Union Cabinet will be crucial for the university which plans to start its academic session from a makeshift venue in 2014 itself.

Sen said that India had conveyed to members of the East Asia Summit that this would be an international university, an understanding that is already incorporated in the Nalanda Act of the Parliament in November 2010.

He said nine countries have already signed an inter-government agreement at the invitation of the government of India to participate in the development of this non-state, non-profit, self-governing institution.

Five of the nine countries have already made some financial commitment on the presumption that they were participating in an international effort, rather than only Indian efforts to build another central university.

Minister of state in MEA Preneet Kaur said on Wednesday that the countries which have made voluntary contributions to the varsity include China ($1 million), Thailand ($100,000), Laos ($50,000) and Indonesia ($30,000).
Citizens of Singapore have offered to design, build and deliver university's library at a cost of $5 million.

Australia has offered 1 million Australian dollars for a chair in the school of ecology and environment studies.

Japan has pledged to use its official development assistance for the renovation of highways leading to the university.

The minister said the government has sanctioned Rs 272.10 crore to Nalanda university during its establishment phase from 2010-11 to 2021-22. The estimated capital cost of the project is Rs 1749.65 crore.

Sen said that he and his team had no problem at all with the expenses of the university being financially scrutinised with all the strictness.

The finance ministry has made it clear that the government rules will have to be followed as Nalanda University is predominantly a government-funded institution.
The university is set to come up on 446 acres in Rajgir, 10 kilometre from the site of the ancient university in Nalanda, about 100 kilometres southeast of Patna. The university will be fully residential, like the ancient Nalanda University. It will offer courses in science, philosophy, spiritualism and social sciences.

The project took shape in 2006 at the initiative of then President A P J Abdul Kalam.

The ancient university at Nalanda was home to over 10,000 students and nearly 2,000 teachers. It existed until 1197 AD and attracted students and scholars from Korea, Japan, China, Tibet, Indonesia, Persia and Turkey.