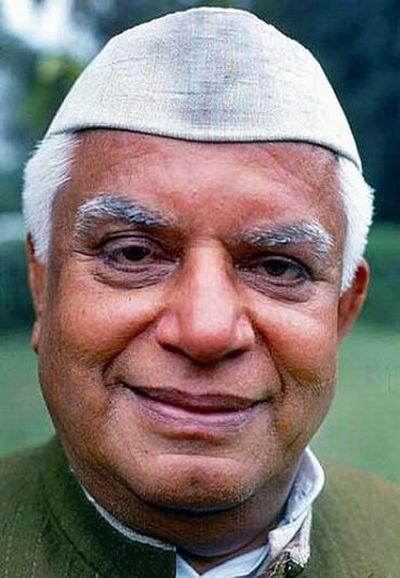 The mother of Rohit Shekhar, who is seeking to declare N D Tiwari as his biological father, told a commission on Tuesday in New Delhi that she was assured by the veteran Congress leader that he intended to adopt her son.
Sixty-seven-year-old Ujjwala Sharma, who was cross examined by Tiwari's lawyer, deposed that at the time of Rohit's birth, she had talked to the Congress leader regarding giving his name as the father of the child, but she was 'not allowed' to do so.
"At the time of birth of the child (Rohit) as well as at the time of his admission, I talked to defendant No 1(Tiwari), I wanted to give his name as father but on his pursuation taking his political career into consideration, I was not allowed to do that because he assured me that he intended to adopt the child and I trusted him," she said during her cross examination by Bahar-U Barqi, lawyer for 88-year-old Tiwari.
She was recording her testimony before Bimla Makin, former additional district judge, who has been appointed by the Delhi high court as local commissioner to record evidence in the paternity suit, filed by Root in 2008.
Regarding a query by Barqi on a divorce petition filed by her former husband B P Sharma, she said that it was incorrect that she and Sharma had tried to defame Tiwari at the instance of a Congress lobby.
"It is incorrect that I and Sharma filed a collusive divorce petition to defame defendant No 1(Tiwari) and acted on it at the instance of a Congress lobby against Tiwari from achieving his highest advancement in political life namely prime ministership of the country," she told the commission.
The cross-examination of Ujjwala remained inconclusive and would resume on Wednesday at the office of Delhi high court bar association. Earlier, the court had ordered day-to-day hearing in the case after Tiwari refused to settle the case through mediation process.
Ujjwala told the commission that throughout Rohit's admission during his education, he wrote the name of his father as B P Sharma only.
She deposed that she has 'no personal knowledge' of any marital discord between Tiwari and his wife but the Congress leader had been telling her that he also had a 'failed married life between 1977 to 1980'.
She had on Monday told the commission that her former husband and her elder son Siddharth live on the first floor of the house at south Delhi's Defence Colony, which was purchased by her in 1978.
Ujjwala had also said that she and her younger son Rohit, who wants Tiwari to be declared his father, live on the ground floor of the building.
The high court on July 27, last year had read out the DNA report that had declared Tiwari as Rohit's biological father. Tiwari had given blood sample for the DNA test on May 29 in Dehradun following an apex court order in the case, after repeatedly refusing to undergo the test.