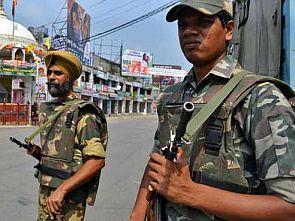 Eight persons have been arrested by the Uttar Pradesh police in connection with Wednesday's renewed communal rioting in Muzaffarnagar, which left four dead.
The situation was described as "tense, but well under control".
The rioting came close on the heels of prolonged communal violence in August-September last when as many as 63 people lost their lives. Those riots were seen as the "worst" in recent times.
Even as the administration and cops had clearly termed Wednesday evening's clashes as "communal", some local residents of Muzaffarnagar have alleged that people were killed in "police firing."
Home Secretary Amrit Abhijat told rediff.com, "There was no firing by the police and it is absolutely clear that the exchange of fire took place between the two warring sides only. It is yet to be ascertained what sparked off the violence, but the local police has arrested eight persons on the suspicion of direct involvement behind the violence."
He said that security deployments have been enhanced all over Muzaffarnagar, including some "highly vulnerable" rural pockets where large scale violence was witnessed in August-September too.

Senior police officials were camping in the village to ward off any spread of violence while a close watch was being kept on other vulnerable areas, particularly places from where people had fled during last month's rioting.
"We have decided to deal very firmly with the rioters and no one would be allowed to get away," he sought to make it loud and clear.

Reports from Muzaffarnagar said that the local administration has started a crackdown on suspicious elements.
A large number of people were still camping in relief camps set up by the administration to provide safe shelter to the riot-affected population. Earlier, in a delayed move, the Akhilesh Yadav government had ordered payment of Rs 5 lakh as ex gratia to each of the riot victims.