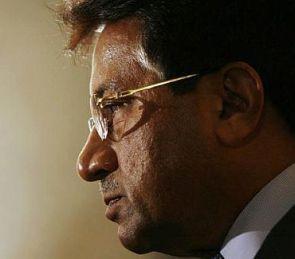 Pervez Musharraf's lawyers on Wednesday said the Pakistani Taliban had threatened them with beheading if they continued to represent the former military dictator and called for a change in the venue of his high-profile treason trial.
The lawyers produced a handwritten letter sent to them allegedly by the Tehrik-e-Taliban Pakistan, asking them to disassociate themselves from the case.
Musharraf's counsel Ahmad Raza Kasuri said TTP has threatened his client's legal team including himself, Anwar Mansoor and Sharifuddin Pirzada.
Kasuri read out the letter, signed as "people of South and North Waziristan" in a special court hearing the former president's high-treason trial.
"We cannot go ahead with this case in these conditions," he said, before reading out the letter.
"Dear Sirs, we request that the three of you stop representing Musharraf otherwise we will destroy your children and behead all of you," the letter was quoted as saying by media reports.
Musharraf's lawyers also submitted an application from him, seeking permission to travel abroad for treatment and also to attend to his "seriously ailing mother".
Similar requests have been denied by the court in the past.
Kasuri said that the court, which has been set up at the National Library, should move to a safer location after the suicide attack on a local court in Islamabad on Monday that killed 11 people, including a judge.
An application has been filed in this regard by the lawyers.
However, prosecutor Akram Sheikh Advocate argued that the courts work even during war.
Justice Faisal Arab said that the file of the case could not be closed and dumped in the record room in view of any threat.
"We are conscious of our responsibility, if the case comes before the court, it has to be proceeded, we cannot leave our job for any threat of life," Arab said.
He said he had spoken with the inspector general and commissioner of Islamabad for an hour yesterday and they had assured him that the court is secure.
The hearing of the Musharraf's case has been adjourned till March 7.
Musharraf is scheduled to appear before the special court on March 11. He is likely to be indicted on that day.
The high-treason case relates to the imposition of emergency rule in 2007 by Musharraf. This is the first time in Pakistan's history that a former military chief is facing trial for treason.
Image: Former Pakistani President Pervez Musharraf