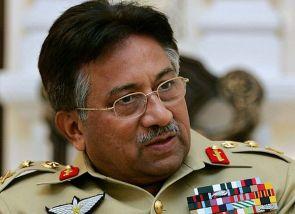 Pervez Musharraf's legal woes mounted on Friday as a Pakistani special court conducting his treason trial issued a bailable arrest warrant for the beleaguered former dictator and ordered his production on February 7.
The three-judge bench, formed by the government to try 70-year-old Musharraf on charges of high treason for imposing emergency in 2007, also rejected his plea to be allowed to go abroad for medical treatment.
Musharraf, admitted to a military hospital on January 2, is unlikely to be held in custody because the court said he could get bail by submitting a surety of Rs 25 lakh.
The court's registrar read out the judgement, which was reserved earlier in the day after defence and prosecution lawyers completed their arguments. The court asked the Islamabad Police chief to implement its order.
Faisal Chaudhry, part of Musharraf's legal team, said the court had stated it did not have the power to remove the former President's name from the Interior Ministry's Exit Control List as only a high court could do this.
Persons included in the ECL are barred from travelling abroad.
Mohammad Ali Saif, a key member of Musharraf's legal team, told PTI, "It is a normal warrant issued by courts. Musharraf will not be arrested. The Inspector General of Islamabad Police will serve the summons, saying the court has asked him to appear before it on February 7.
"He has the option of submitting a surety of Rs 25 lakh," he said.
Asked if summons would have to be personally delivered to Musharraf, he said, "That will not be needed. He can submit the surety beforehand. If Musharraf does not appear in the court on February 7, another bailable arrest warrant can be issued. But if a non-bailable warrant is issued, then he will be arrested."
Chaudhry said Musharraf's legal team would study the court's order and challenge it if there is an illegality.
On Thursday, Musharraf's legal team had asked the special court to remove his name from the ECL so that he could travel abroad. The plea contended the former military ruler wants to visit America for cardiac treatment.
Musharraf was admitted to the Armed Forces Institute of Cardiology in Rawalpindi after he developed heart problems while being driven to the special court.