Though the Samajwadi Party chief did not give any specific reasons for staying away, he had spoken out strongly against China during the recent border row, reports Sheela Bhatt.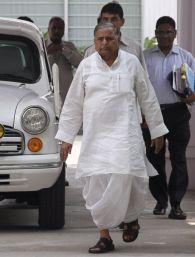 Mulayam Singh Yadav, an important political leader whose Samajwadi Party supports the United Progressive Alliance government from the outside refused to join dinner hosted by Prime Minister Manmohan Singh at 7, Race Course Road, on Sunday evening in honour of the visiting Chinese premier Li Keqiang.
All arrangements were in order till the last minute, but Yadav did not turn up.
Li's visit comes days after an aggressive incursion by China at the border. Chinese troops had entered 19 km inside the Line of Actual Control -- the de-facto Sino-Indian border -- and had set up tents. At that time Yadav, a former defence minister, had spoken strongly against China.
Yadav had gone to the extent of saying, "I appeal to the government and the prime minister that they should not trust China... The Chinese troops have seen the way and what difficulties they would face in coming in. China will not stop, and attack India as it is a betraying country," he said.
The border row ended on May 5 after high-level negotiations. Yadav has not yet expressed any specific reason for not joining the high-profile dinner.
The dinner for visiting Premier Li was attended by Congress chief and UPA chairperson Sonia Gandhi, Congress vice president Rahul Gandhi, who sat next to Arun Jaitely, leader of opposition in the Rajya Sabha and BJP leader, External Affairs Minister Salman Khurshid, Information and Broadcasting Minister Manish Tewari, whose profile within government has increased manifold recently, and also Communist Party of India-Marxist General Secretary Prakash Karat.
Planning Commission Deputy chairperson Montek Singh Ahluwalia and BJP leader Sushma Swaraj were also on the high-table.
A guest, who attended the dinner, said, "On the table, which was big enough to accommodate 20 persons, soup was served followed by vegetarian and non-vegetarian kebabs. It was followed by three-four Indian sabzis mostly Punjabi. The food was okay, as it is on such occasions."
Image: Samajwadi Party supremo Mulayam Singh Yadav
Photograph: Pawan Kumar/Reuters