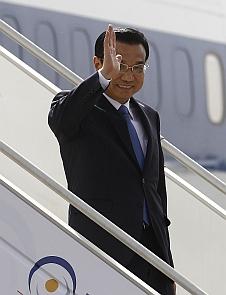 Much before the details of the bilateral delegation level talks could emerge along with the media statement later in the day, visiting Chinese Premier Li Keqiang addressed the media in New Delhi and won the round hands down in the quiet presence of Prime Minister Manmohan Singh.
In the highly static ceremonial event at Rashtrapati Bhavan, visiting statesmen usually talk to the media in two or three sentences, but here was Premier Li relaxed, focused and smiling under the scorching Delhi sun and ready to share his views. One could say he almost addressed the Indian people. His body language was just perfect as he kept turning towards Dr Singh even while addressing the Indian media.
"The purpose of my current visit to India is three-fold -- to increase mutual trust, to intensify cooperation and to face the future," Li said. The Chinese premier's positive statement comes after an aggressive intrusion by the Chinese in the Himalayan region. The intrusion inside 17 km of Indian territory flared tempers on both sides.
Since his arrival on Sunday, Li's body language has said it all. He emerged from his aircraft, under the Indian sky, all alone and waved straight at the Indian media. There was no visible security or protocol coming in the way of the cameramen. That he will play cool on this visit was established as soon as he landed.
On his first official visit to India Li emphasised that he made India his first visit because it was China's important neighbour. Like leaders of both sides always do, he reminded that the combined population of India and China account for a third of humanity, and that development and prosperity of the world was not possible without the simultaneous development of India and China. He understood the mindset of New Delhi and added that with this visit he hoped that it will lead to an increase in mutual strategic trust as both countries are ancient civilisations.
Li didn't mention the border issue or the disputes related to it but he did talk about peace. "World peace cannot become a reality without strategic trust between India and China," Li said.
He mentioned how Dr Singh and he had a productive session on Sunday before the dinner hosted by the prime minister at his residence.
He expressed high hopes for Monday's talks, saying it will be more bountiful. While placing emphasis on economy and development, he said, "On the basis of deeper mutual trust, our two countries can further deepen our mutual understanding and construct a new type of relations between major countries, and promote the healthy and sound development of China and India. That will be a true blessing for Asia and the world," Li said. He seemed so stress-free while presenting a strong case for a stable relationship between the two nations.
Turning away after the press interaction, Premier Li gave his parting shot: "I can guarantee you when Dr Manmohan Singh comes to China, there will be banner headlines welcoming him."
Alka Acharya, professor of Chinese studies in the Centre for East Asian Studies, told rediff.com, "At the Rashtrapati Bhavan briefing Premier Li was affable, smiling and exuding warmth."
Analysing Li's interaction with the media she said, "He presented a positive framework while setting the ground for the bilateral relationship by the new administration in Beijing. He gave us the message that his country was focused on development. So is India. Both countries need stability. This visit will send the message across the globe that both countries will not allow any difference to come in the way of development, which is the integral part of their strategy."