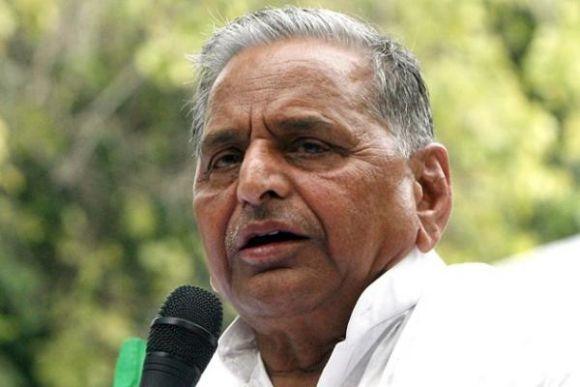 Under attack from the Bharatiya Janata Party's prime ministerial nominee Narendra Modi, Samajwadi Party supremo Mulayam Singh Yadav on Monday hit back at him asking whether education and irrigation had been made free in Gujarat like Uttar Pradesh, and charged his party with instigating riots to impede growth.
"I heard his (Modi's) speech... He said nothing has been done for farmers, but I ask whether he has made education, irrigation and health care free in his home state like Uttar Pradesh," Yadav said addressing the "Desh Bachao, Desh Banao (Save the Country, Build the Country)" rally in Gonda.
"Over Rs 16.50 crore of loans of the land development bank has been waived off and provisions have been made to ban auction of farmers' land, but what have you done Modi sahab?" he asked, and added the state cabinet had also okayed free medical treatment for serious ailments like cancer.
Rejecting allegations of discrimination in relief work in Muzaffarnagar, he said "riots are unfortunate and should not have happened", but the state government had done everything possible to provide employment and house to the victims.
The SP chief questioned Modi as to what he had done for the riot victims in his home state Gujarat, and recalled how the locals, especially women, apprised him of their problems which he "cannot utter from the dais".
Alleging that hurdles are being created in development of the state, Yadav asked who was behind the Muzaffarnagar riots."When we start development, murders are committed and fires are set on... who did Muzaffarnagar... are your MLAs not involved?" he asked.
"You said we helped only one section of society why is your eye only on Muslims... We do not do so, if there is anyone who does discrimination, it is you," he said, "We had given land to Sikhs in the terai region of the state, but in Gujarat you have been trying to snatch lands from Sikhs and conspiring to throw them out."
"It is my open charge why are Sikhs being troubled in Gujarat... Why is the government trying to grab their land?" he asked.
Speaking on the large crowd in Modi's rallies, the SP chief claimed that in the BJP leader's Meerut rally on Sunday a small number of youths attended whereas the SP meet was dominated by young voters.
"Only when you (Modi) got defeated in attracting a large number of people, you said that it is not a competition of (drawing) crowds but of development... but who started it (the competition)?" Yadav asked.
He said on development front too the UP government was doing a great work and "in five years it would be one of the most developed state in the country because of SP's policies".
"If in Gujarat it is the population of six crore which is happy, in UP about half of the 21 crore population is happy... where is the competition?" he asked.
Claiming the five-year tenure of the United Progressive Alliance-II government had been marred by inflation, corruption and scams, Yadav said there had not been a single Parliament session when these issues had not stalled the proceedings.
Following opposition pressure, the President, who was then a minister, was forced to tell the House about black money stashed in foreign banks, but despite persistence he did not divulge the names.
"The BJP said give the names if our people are involved; there is no question of SP man having such an account, we seek funds and do a rally like this," he said, adding that the black money episode had earned a bad name to the country.
Yadav also said despite the Central Bureau of Investigation giving in writing that there was no case against him, the issue was kept alive from 2007 to 2013 to humiliate him, and alleged this was done by the Congress.
Without naming the Aam Aadmi Party or Delhi Chief Minister Arvind Kejriwal, Yadav said that "(he) says only they are honest and the rest are corrupt... I have been given a clean chit by the CBI... why has he left his government job... it is only the SP which is taking along the vision of Gandhi, Lohia, Narendra Dev and Jai Prakash Narain."
Yadav said his party would exert pressure on the Centre during the coming Parliament session for implementation of the Sachar Committee recommendations.