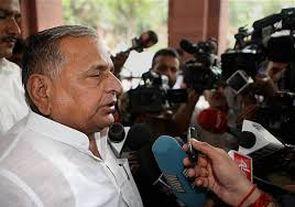 In an apparent attack on the UPA government, Samajwadi Party supremo Mulayam Singh Yadav on Wednesday alleged that no other country in the world had seen the kind of deteriorating situation as India did in the last 10 years, saying people were now looking for an alternative.
"Today, there is threat to India's politics, security, economy and secularism which was never there before," he said in his presidential address at the SP National Executive meeting being held in Agra.
Setting the agenda for the two-day meet, Yadav said there was a need for serious deliberations on all these issues which will be taken up during the conclave.
"People of the country don't want to listen to the complaints, they are searching for an alternative. I have been repeatedly saying this that it was not possible for larger parties which indulge in vote politics. This challenge has to be accepted by the regional parties," he said.
Yadav said SP from the last 20 years has been raising the issue of increasing threat to the country's security at the borders but has gone unheard by both UPA and NDA regimes.
"It is first and foremost responsibility of a proud nation to instill feeling of security and honour in the hearts of its people. Unfortunately during UPA and NDA regimes, the people were insulted and felt insecure," he alleged.
The SP supremo said that there have been a number of attacks and intrusions on the borders and soldiers have been killed which the government has hid from the country.
"No serious effort is being made from the government's side to change the situation. The prime minister first gives assurances and then says that we cannot change our neighbours," he said.
"It is true that we can't change our neighbours, but we can't let our boundaries being held captive in their hands," Yadav added.
He alleged that the even figure of soldiers achieving martyrdom without fighting was being distorted which would not be tolerated.
Yadav alleged that small farmers, unemployed people and slum dwellers were the biggest victims of the bad shape of the country's economy.