Keeping an eye on the 2019 elections, the PM has asked leaders to connect with the youth and hold events in each panchayat and municipal ward across the country. Archis Mohan reports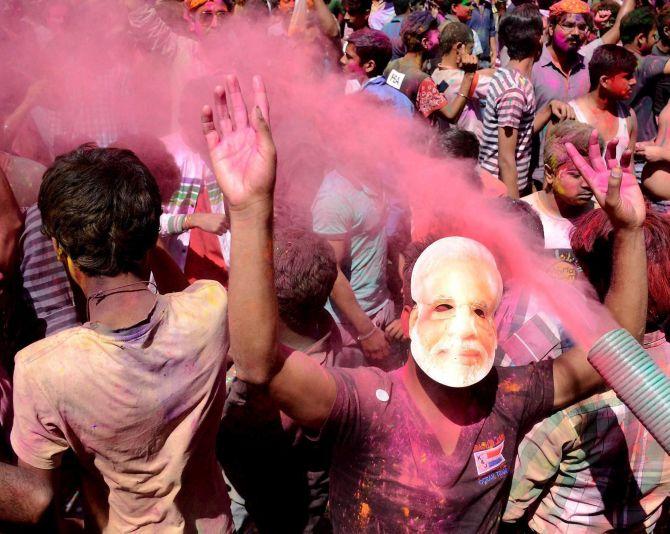 The Narendra Modi government and the ruling Bharatiya Janata Party are putting in place elaborate plans to mark three years of the government at the Centre. The campaign is expected to contribute to the government's and party's push for re-election in the 2019 Lok Sabha polls.
The focus of the celebrations is going to be an appeal to party workers to take the message of the Modi government's 'garib kalyan' agenda and related schemes to the remotest areas.
On Thursday, Prime Minister Modi cautioned the BJP parliamentary party, which comprises all its 330-odd Lok Sabha and Rajya Sabha members, against overconfidence after the wins in the recently held assembly polls.
"Na baithunga, na baithne doonga (Neither will I rest nor will let you)," Modi said, asking the MPs to prepare for the 2019 Lok Sabha polls. The PM asked the party to make youths the "ambassadors" of his government's works.
Modi said youngsters depend on mobile phones more than newspapers and TV channels to get information, and stressed the need to use smart phones to tap them. The PM also asked the party leaders to contact the youngsters while they are still in Class XII, Parliamentary Affairs Minister Ananth Kumar said.
The PM briefly attended the Rajya Sabha proceedings after the parliamentary party meeting. He spent about 15 minutes in the House. The Question Hour on Thursdays is reserved for questions relating to the prime minister and his office.
While members of the ruling party stood up as the PM entered the House, some opposition members jeered him, saying "dekho dekho kaun aaya hai, Hindustan ka sher aaya hai."
As for the BJP's plans, from April 6 (its foundation day) to April 14 (the birth anniversary of BR Ambedkar), the party will hold events in each panchayat and municipal ward across the country. This will also be an effort to consolidate the BJP's outreach among the Dalits. The PM asked party leaders to publicise Ambedkar's works and contributions, besides popularising the BHIM App.
Party workers and leaders will take part in a 'Swachh Bharat' campaign on the foundation day. BJP MPs and legislators will also be required to spend 72 hours in a village in their constituencies in the run-up to May 26, when the Modi government will mark its three years. He said polling booths were the real power centres and ministers to legislators should visit polling booths.
BJP chief Amit Shah said the public has supported the Centre's demonetisation move, as reflected in the recent poll wins. "The next target is 2019," he said.
The BJP parliamentary party also passed a resolution thanking voters for their support and also party's workers for their efforts under the leadership of Modi and Shah.
Image: A BJP supporter wearing a Modi mask celebrates the party's victory in Uttar Pradesh. Photograph: PTI Photo