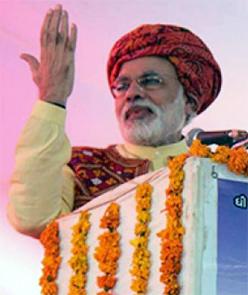 Narendra Modi's 'lackluster' speech in Bengaluru was a planned move, political analysts tell Vicky Nanjappa
Bharatiya Janata Party's prime ministerial candidate Narendra Modi managed to draw in a huge crowd for his rally at Bengaluru on Sunday.
But many analysts felt that the fiery leader's speech lacked its usual punch.
The unabashed opposition-bashing or the stinging remarks against shehzada Rahul Gandhi were missing from Modi's speech.
Was the lackluster speech a deliberate ploy on Modi's part?
Political analysts point out that he desisted from making a combative speech since Karnataka, unlike the earlier states Modi has visited, is not election-bound.
They add that Modi had indeed launched a verbal assault on Chief Minister Nitish Kumar during his speech in Patna, even though Bihar is not headed for elections either.
Going full-throttle against Kumar, whose party Janata Dal – United had walked out of the BJP-led National Democratic Alliance over Modi'e elevation, was again a deliberate ploy by the Gujarat CM.
Before addressing a rally in another state, Modi is known to consult his 'think-tank' as well as local leaders to fine-tune his speech. He was advised to take on Kumar and the JD-U in Bihar to carve out a bigger turf for the BJP in the state and address the issue of 'betrayal' by the latter.
On the other hand, in Bengaluru, the tech-savvy Modi wanted to connect with the mammoth crowd of IT professionals in the city. So he wisely chose to talk about technology, science and social media -- issues that would resonate with them.
The PM aspirant's speech, focusing on skill development and information technology, was a planned move. He wanted to touch the aspirations of the educated and upwardly-mobile crowd in Bangalore, BJP sources told Rediff.com.
Modi, who has so far been spewing venom at his political opponents, has realised that merely bashing the opposition will not get him votes in the forthcoming Lok Sabha elections.
The younger generation wants him to outline his plan for the future of India.
The subdued speech in Bangalore was the first step towards Modi remoulding himself into a PM candidate with a development agenda.
Ironically, Modi seems to have finally heeded the warning repeatedly issued by the Congress party, which had cautioned the rabble-rousing leader that abusing the opposition mercilessly will not automatically propel him to the PM's post.
The speech in Bangalore was Modi's way of reaching out and showing the electorate that he is capable of more than hurling the choicest insults at the Congress. He wanted to prove that he has a vision for the revival of the country's economy, for meeting the aspirations of the youth, for tackling the challenges of internal security and for bolstering India's defence set-up.