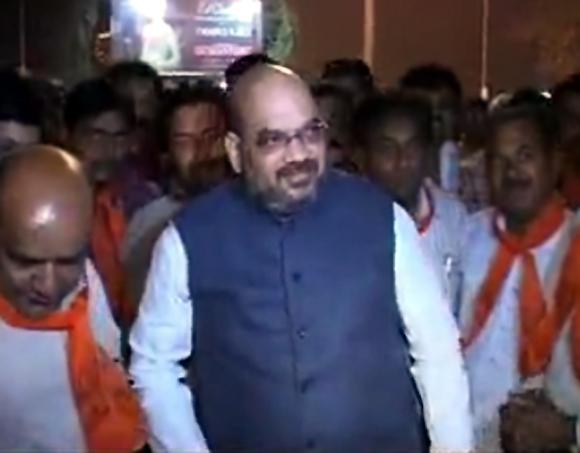 Controversial Bharatiya Janata Party leader and Gujarat Chief Minister Narendra Modi's Man Friday Amit Shah arrived in Lucknow on Wednesday to take over the reins of the party in the country's most populous state, which he himself termed as the route to the ultimate seat of power in Delhi.

With a clearly tough task lying ahead of him to taking the party's paltry tally of 10 to a lion's share out of Uttar Pradesh's 80 Lok Sabha seats, Shah sought to assure everyone that even though it was a tough call, it was certainly not mission impossible.

"I am going to spend at least 20 days every month in the villages of Uttar Pradesh and my foremost task will be to identify at least 1,27,000 party activists who would be ready to adopt one polling booth in their area, Shah told a series of workers meetings he addressed at the state BJP headquarters.

In an obvious message to everyone that he was a hands-on leader, he declared, "I am myself going to be in-charge of one polling booth."
He added, "If each of us concentrate on every single booth across the state, then you need not worry about the Lok Sabha constituency, which will be yours automatically", he told a closed-door meeting.
"Forget worrying about the Lok Sabha constituency. Concentrate at the booth level. If you are able to take care of your booth, rest of the things would fall in place by themselves," he said.

By citing key figures such as the number of polling booths in UP and the statistics of various levels of party workers in the state, Shah was clearly set to send the message loud and clear that he had actually done a detailed homework.

Shah's busy itinerary - with breakfast, luncheon and dinners – scheduled over Wednesday and Thursday also has special slots for meeting with the "common BJP worker".

To demonstrate his proximity to the Rashtriya Swayamsevak Sangh, Shah had in toe the think-tank's key pointsman Saudan Singh who had been specially rushed to Lucknow from Chhattisgarh for his introductory meeting with UP BJP leaders and workers, Shah quizzed various state level workers, especially those with years of standing in various capacities.

His three colleagues -- Trivendra Singh Rawat, Rameshwar Chaurasia and Satyendra Kushwaha -- who were named co-incharge of the party -- also decided to join 'mission UP'. They were entrusted with the responsibility of three politically important regions -- Kashi, Bundelkhand and Braj respectively.

Significantly, in a prompt reassuring gesture, state BJP president Laxmikant Bajpai made it a point to announce that he would adopt a particular booth in Meerut district.

Informing party men about Modi's declaration at a public rally in Gujarat about erection of a giant sized iron statue of Sardar Patel to match the statue of liberty, Shah said, "We are required to collect a piece of iron out of spades used by farmers across five lakh villages of the country -- to cast the Iron Man's statue."