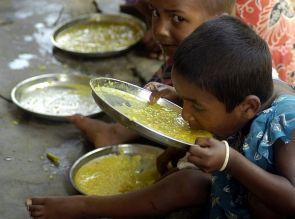 A day before the Cabinet considers issuing an ordinance to implement government's ambitious National Food Security Bill, Food Minister K V Thomas said all UPA allies, including Nationalist Congress Party, are on board and there was a consensus on issuing an ordinance.
The Food Security Bill, a pet project of Congress chief Sonia Gandhi, was tabled in the Budget session of Parliament but could not be taken up for discussion due to pandemonium in the Lok Sabha over various scams. However, government is keen on issuing an ordinance for early implementation of the bill.
"A political call has been taken on this (bringing an ordinance to Food Bill). This is an important legislation. Discussions have been made at different levels and there is consensus. The Bill is coming for discussion before the Cabinet tomorrow," Thomas told reporters.
Asked if all allies especially NCP are on board on this issue, Thomas said: "Everybody in UPA government are together for Food Bill ordinance."
NCP leader and Agriculture Minister Sharad Pawar had earlier aired reservations on bringing an Ordinance to Food Bill. However, Prime Minister Manmohan Singh is believed to have discussed with Pawar and cleared all his apprehensions.
The bill aims to give legal rights to 67 per cent of the population over a uniform quantity of 5 kg foodgrains at a fixed price of Rs 1-3 per kg through ration shops.
On opposition's criticism that the government is simply hurrying to implement the Bill without proper discussion in Parliament, Thomas said, "In the last two sessions, (even) Question Hour was not allowed to function in Parliament. It was (a) very sad situation. We have to go ahead...
"It is one of the reasons that we have taken the ordinance route so that we can initiate groundwork for smooth implementation of the bill."
Emphasising that the Food Bill is a political commitment of the UPA government, the minister said, "In 2009, then President had made a statement on Food Bill in Parliament. It is a political commitment, we have to tell people that we are serious about the bill."
Thomas said the government's tenure will end by May 2014 and it has got mandate for people of this country. "We have to go ahead and give signal to people that we are doing this," he said.
The bill will definitely be discussed in the monsoon session of Parliament, he added.
In its Cabinet note, the food ministry has proposed issuing an ordinance to implement the provisions of the food bill within six months, instead of one year suggested in the original bill, sources said.
Congress considers the Bill as a game changer for the next elections.
Parliamentary Affairs Minister Kamal Nath rejected the criticism of government on the issue of bringing an ordinance.
He put the entire blame on the Opposition saying they should not be talking against an ordinance as it was due to their disruption in the last session of Parliament that this ordinance is being brought about.
"I do not think it is disrespect. The BJP blocking the last session of Parliament when the Food Security Bill was to be passed was disrespecting Parliament. I think anyone who says that this is disrespect is forgetting and the BJP in particular they did they not let the last session run..." Nath told NDTV.
Noting that the Food Security Bill was hanging after being cleared by the Standing Committee, which gave its report in December 2012, the Minister said: "It is incumbent on us that the benefits of this Bill must reach the people as fast as possible...there is a Constitutional provision to bring an ordinance."
He said it was because the BJP did not allow the last session to run that "compelled us to bring this ordinance to be able to get the benefits to people as fast as possible."
It is due to the BJP that "we are compelled to bring an ordinance, otherwise we would have been too much down the road in implementing this food security" by now, he added.
Nath said notwithstanding the Ordinance, there will be a debate when the Ordinance goes to Parliament in the monsoon session.
"We will have a debate but why should we delay it even by a day....Parliament session is six to seven weeks away. We should not lose six to seven weeks and what is the guarantee that they will pass it in the next session, that they will not obstruct it again.
"They have done this in last session. After having assured that Parliament will run, they obstructed the session. I certainly do not buy that they will stick to what they say. We must ensure that the benefits of this bill goes to people."
BJP spoke of the possibility of Congress toying with the idea of early Lok Sabha elections on the pretext of food bill.
"There is more to it than meets the eye and Congress may be thinking of early elections and could be seeing the ordinance as a game changer", BJP spokesman Prakash Javadekar told PTI.
He prefaced his statement by wondering as to "why there is sudden rush for ordinance on the Food Security Bill when all parties have agreed to it in-principle and in fact have given good amendments".
The BJP spokesman alleged that by going for an Ordinance, Congress was playing "petty politics to get exclusive credit" in the elections ahead. He said such politics has never paid dividends electorally.
Wondering as to why Congress was running away from debate, he alleged that the government wasted nine years and "did not bring the bill and have now suddenly become hyper-active".