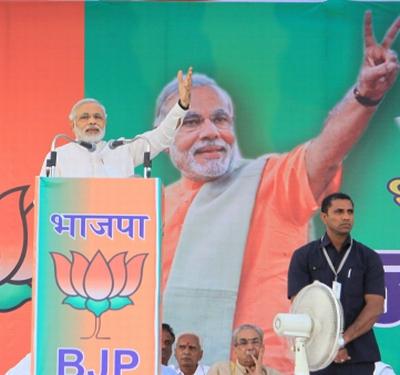 Gujarat Chief Minister and Bharatiya Janata Party's prime ministerial candidate Narendra Modi on Saturday sharpened his attack on the Congress in general and party Vice-President Rahul Gandhi in particular at a rally in Udaipur, Rajasthan.
Modi began his attack by reminding the crowd about Gandhi's speech in Indore, in which he had stated that Pakistan's spy agency Inter Services Intelligence was in touch with Muzaffarnagar riot victims.
"Shehzada has made some statements which even Congress workers failed to understand. Why, what, for whom he spoke, no one knows," he alleged.
"When he talked about it, I thought from where did all this came from and tried to find out. Then I came to know that a certain police officer from Rajasthan, who wants to bag an election ticket, had gone to meet him and shared this theory, about which he told you. Will such people be able to run the country," Modi questioned.
Once done with the Congress vice-president, he proceeded to attack Rajasthan Chief Minister Ashok Gehlot, accusing him over the Gopalgarh riots.
"Do you know that the shehzada has no faith in Ashok Gehlot? If he had any faith in Gehlot, he wouldn't have visited Gopalgarh on a bike without informing him," said Modi, before adding, "Do you know whose bike it was? It was a stolen bike."
Modi also claimed that the National Human Rights Commission, the National Minority Commission, the Supreme Court, the Rajasthan high court and
Rajasthan governor (Margaret Alva) have from time to time expressed their lack of faith in the Gehlot government.
"Shehzada came here and preached about communalism but 25 major riots have taken place in Rajasthan. Not just that, nearly 80 cases of violence have also taken place," said Modi.
He also raised the arrest of former minister Babulal Nagar on rape charges, asking, "How will a mother, sister or daughter be able to meet a minister under such conditions?"
Taking a dig at Gandhi -- who has invoked his father Rajiv Gandhi and grandmother Indira Gandhi in his speeches -- Modi said, "Like family soaps on TV, he thinks family serials will work (in politics too)."
He ended his speech by saying that a direct accusation has been made against Prime Minister Manmohan Singh in connection to the coal-gate scam but the Central Bureau of Investigation is yet to take any action.
"If a direct allegation had been made against (BJP leaders) Vashudhara (Raje), Shivraj (Singh Chouhan), Raman (Singh) and against me, would the CBI delay in arresting us? But now, it's in a fix," he added.