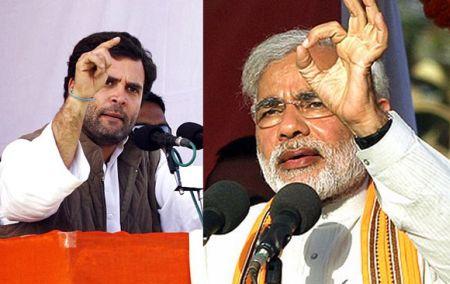 "Rahul is fighting the battle of rallies as an infantry soldier, while Modi as a technician in a thermo-nuclear war."

The weather in Delhi is changing. Anxiety, excitement and scenario-building is the current flavour in the national capital as elections draw closer.
Congress vice-president Rahul Gandhi will meet a group of industrialists on Saturday, perhaps to remove the impression that his party only stands for giving away public funds.
Gujarat Chief Minister and the Bharat Janata Party's prime ministerial candidate Narendra Modi is not wasting his time in Delhi. He is on the move. He has three more rallies lined up this month: In Bhopal, Tiruchirapally and New Delhi.
Put together by a former Rajya Sabha MP, the interaction is likely to be a no-holds-barred meeting, where everything from the retrospective tax proposal to the government's economic policies will be discussed.
Madhya Pradesh and Delhi are poll-bound. But why Tiruchirapally, one could ask. Because the BJP is ally-shopping and feels it is very weak in Tamil Nadu.
Although Chief Minister Jayalalithaa's response to Modi has been cordial, she has told her supporters that her party, the All India Anna Dravida Munnetra Kazhagam, will fight the Lok Sabha elections without any allies. If BJP is to make any dent in Tamil Nadu, it desperately needs a pre-poll alliance. It has sent feelers to Vijayakanth of the Desiya Murpokku Dravida Kazhagam and it is said to have arranged for actor Rajinikanth to attend the rally.
The rally has been organised on grounds that can accommodate up to 15,000 people but 200,000 are expected to attend.
They will all pay Rs 10 each to attend the rally against Rs 5 at the Hyderabad rally. The logic: Modi was just a speaker when he spoke at Hyderabad; now, he is a prime minister candidate!
Like in Chhattisgarh, Modi will address the rally from a setting that will look like the Red Fort. The suggestion is: from Rock Fort to Red Fort. Rock Fort is a big outcrop of rock with a temple on top that served as a fort for some time in Tiruchy's medieval history. For the first time, television channels in Tamil Nadu, a political force in themselves, will run Modi's rally live.
What Modi says -- and does not say -- will be analysed threadbare in Tamil Nadu. The BJP's cachet in India's southernmost state is likely to go up with the rally but without allies, it is likely to just dwindle electorally.
What is interesting is the strategies both Gandhi and Modi are adopting to fight the war. As a Congress leader put it, one is fighting the battle as an infantry soldier, the other as a technician in a thermo-nuclear war.
Image: Congress general secretary Rahul Gandhi and BJP's PM candidate Narendra Modi