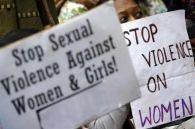 The Union home ministry pulled up Delhi Police Commissioner Neeraj Kumar for not taking prompt action to trace the five-year-old girl, who was kidnapped and raped, despite her parents registering a missing complaint on Monday. The police team was accompanied by Prabhakar, deputy commissioner of police East Delhi.

During a press conference late on Friday, Prabhakar admitted that they had a meeting with officials from the home ministry. He, however, refrained from mentioning the names of senior officers present at the meeting.
ACP B S Ahlawat slapped the girl at least four times inside the SwamiDayanandHospital hospital when she and others were on protest. He has been suspended with immediate effect by Police Commissioner Neeraj Kumar.
SHO Dharampal Singh and sub-inspector Mahavir Singh, who was the first investigating officer, were placed under suspension for alleged dereliction of duty pending an inquiry, DCP (East) Prabhakar said.
Asked about the allegations that some policeman offered Rs 2,000 to the rape victim's family for hushing up the case, the DCP said a vigilance inquiry is on.
The decisions came after the Delhi Police Commissioner briefed the Union Home Ministry.
Kumar also had a late evening meeting with Special Commissioner (Law and Order) Deepak Mishra, Joint Commissioner (South-East) P Kamaraj and DCP Prabhakar.
Earlier in the day, the victim's family alleged that cops had offered them Rs 2,000 to hush up the case and they made insensitive remarks.
The victim's father also alleged that police refused to register a rape case after she was rescued, besides accusing the police of refusing to lodge a case when he went to the police station to lodge an FIR.
"If they had made a better attempt, they would have found her. Police told me to be happy that she was alive," he alleged.
A relative of the victim claimed that when they went to the police station to enquire about the case, the personnel there told them that now they should pray for her recovery as she has been rescued.
With inputs from PTI