Indian security agencies are concerned about the effectiveness of the militant rehabilitation policy as a slip-up may result in infiltrators crossing over to India, reports Vicky Nanjappa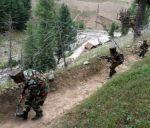 The arrest of Liaqat Ali Shah -- a Hizbul Mujahideen militant -- by the Delhi Police has raised concerns about the government's militant rehabilitation policy.
While the Kashmir state government claims that Shah was planning to surrender under the rehabilitation policy for militants, the Delhi Police think differently.
On one hand the government is considering modifying the militant rehabilitation policy, while on the other hand it has launched the terror data portal.
But before getting into these issues, the government needs to understand that over 2,000 Kashmiris had left India and joined Pakistan tanzeems to liberate Kashmir.
A report by the Military Intelligence states that most of these people today are feeling lost as they have nothing to do. They live in camps and are discriminated. Over the years they have realised that they have better opportunities back home.
To add to their woes, their tanzeems are unable to sustain themselves. Most of them have been told by their leaders to go find jobs till they are needed for an operation.
They also realise that Kashmir may never be liberated.
But not all have come to Pakistan to liberate Kashmir; some have been pressured into it. Jihadis from Pakistan threatened to gun down families unless one son was not handed over to them for the cause.
On the flip side, India risks welcoming infiltrators if there is a slip up in the screening process.
A rehabilitation policy is important, says former chief of the Research and Analysis Wing, C D Sahay, and even though infiltration is an issue, these people could be great assets to intelligence agencies.
The Union government has decided now to work with the state governments to improve the militant rehabilitation programme. They do not want coordination goof ups. Many in the government feel the Delhi Police ought to have coordinated with the J&K police.
The launch of the Terrorist Information System (TIS) will now provide data on terrorists on a single platform. The government has directed all major agencies to feed information into this portal.
The state government would have to upload details regarding terrorists in their state within the next 15 days. Each officer dealing with such cases will be given a unique login. The officers will have to cross check with the information put up by other states and also the National Investigation Agency. The government expects the new system to bring about better coordination between agencies.