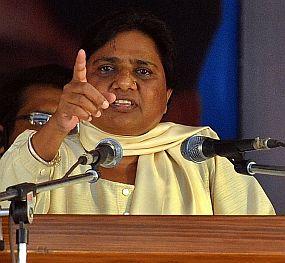 Having alerted her partymen on Wednesday about the possibility of an early Lok Sabha poll, Bahujan Samaj Party supremo Mayawati is all set to plan her cards for the next electoral battle.
On Thursday, Mayawati rolled out her strategy by tapping Brahmins, who she believes will spring back to her party fold after having deserted her during the last state assembly election in 2012.
"Brahmins of Uttar Pradesh fell into a trap because of being misguided by the Congress. But I am confident that the realization has now dawned and they will return to the BSP in the forthcoming parliamentary elections," Mayawati told a media persons in Lucknow.
"Within one year of the Samajwadi Party rule, they have realized how they were at the receiving end; therefore it was in their interest to be back with us," she said, adding, "As a first step from our side, I have authorised my party MP, Satish Misra to undertake an extensive campaign to consolidate a fresh bond between BSP and the Brahmin community."
Mayawati also convened a meeting of representatives of various district level Brahmin-Dalit Bhaichara committees, urging them to work aggressively towards re-building synergy between the two communities.
In an obvious bid to win them over, she went about reminding them how she had initiated a move to provide reservation to the economically weak among the upper castes.

"It was for the first time in the history of the country that I urged the central government to provide reservation to the poor among upper castes as well as Muslims, without disturbing the existing quota of schedules castes and scheduled tribes," she told the gathering.
A limited crowd of about 2000 Brahmin representatives from different parts of the state had gathered on the open quadrangle outside Satish Misra's residence.

And just as her motorcade drove over the red carpet specially laid out on the drive-way, cries of 'Brahmin Shankh bajayega; Haathi Dilli jayega (Brahmin will blow the conch-shell; and the elephant will ride on to Delhi)' rent the air.

Another popular slogan raised by the crowd went as follows, Haathi nahin Ganesh Hai; Brahma, Vishnu, Mahesh hai (This is not just and elephant but Lord Ganesh ; and is Brahma, Vishnu , Mahesh ).
She also made it a point to recall all that she had done to reach out to Brahmins and give them positions of respect and prestige during her tenure as chief minister.

"I do not wish to repeat the names of those Brahmins who were given positions of eminence and significance during my regime. But let me assure everyone that BSP will continue to extend the same respect and honour to the upper castes and more particularly the Brahmins," she pointed out.