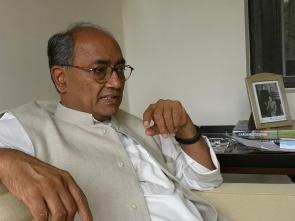 Congress general secretary Digvijay Singh on Thursday made it clear that he would not contest the Madhya Pradesh assembly elections, slated to be held later this year, but could contest the Lok Sabha elections if the party permits him.
Stating that he had no plans to contest the state assembly elections, Singh told reporters, "However, if the party allows me to, I will contest next year's Lok Sabha elections."
The Congress leader said though he had always received a lot of flak for criticising the Rashtriya Swayamsevak Sangh, he had always been proved correct.
"Whenever I say anything about the RSS, I face a lot of criticism, but subsequently I have always been proved right," he asserted.
Singh accused the state Bharatiya Janata Party government of not fulfilling most of the promises made since the 2003 assembly elections.
"It is really sad to see that the BJP has miserably failed on all fronts and yet it makes claims about developing Madhya Pradesh," he said.
Farmers are not getting electricity in Madhya Pradesh even under the much-hyped Atal Jyoti Yojana, he said.
Commenting on the frequent disruptions of Parliamentary proceedings, Singh said the Opposition in Lok Sabha was not interested in running it and was resorting to frequent interruptions.
The Congress leader also alleged that many students had got admission in MBBS courses in MP through fraudulent means. He demanded that Chief Minister Shivraj Singh Chouhan should order an inquiry into the matter, failing which he will seek a probe by the Central Bureau of Investigation in it.