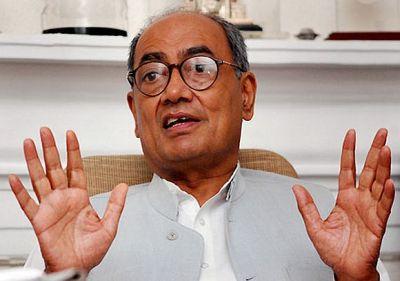 By all accounts Digvijaya Singh is serving Rahul Gandhi's purpose of pushing himself into orbit over Narendra Modi, but he is also pushing his own case by his brazen tweets and bold assertions in the social media and in public acrimonies. But there is a limit to all games, writes Sheela Bhatt.
The political air in New Delhi smells of blood already. By all accounts the Congress party is in no mood to hold general elections in November-December this year along with state polls due in Delhi, Rajasthan and Madhya Pradesh, Chhattisgarh and Mizoram. Still, Indian politicians of all hues and castes have started spreading the scare of an amoral phase that they will collectively impose on us.
The political theatre called New Delhi looks scary once again with all the characters running furiously behind each other with knives in their hand. Congress sources hint that elections could be held in February or March 2014 provided the government survives the coal scam. The coal allotment case, being investigated by the Central Bureau of Investigation, is taking a serious turn and if the Supreme Court proceedings expedite, then one does not know how Prime Minister Manmohan Singh will withstand the moral pressure from the scam.
Yesterday the CBI placed on record before the Supreme Court that there was no material about the decision-making process in the coal mines allotment and that minutes were either not maintained or were sketchy. Who did the allocation, how, on what terms and conditions, and which procedures were followed before selection, are not known to the CBI which wants to get to the bottom of the wrongdoing, if any. This government has thrown away the nation's precious raw material and still makes noises -- at a cost of Rs 50 crore plus -- about the United Progressive Alliance government's Bharat Nirman.
The fact that coal allotment records are not available deserves an urgent press conference by the prime minister, but in New Delhi accountability is in short supply. The statecraft known currently to the government and the Opposition is only limited to how to exploit the last drop of blood from the Ishrat Jahan encounter case.
When Amit Shah goes to Ayodhya, and when Digvijaya Singh targets Gujarat Chief Minister Narendra Modi's game plan, one knows how communal tension is being unabashedly manufactured for their respective parties to eventually win or retain power in New Delhi. It is time to alert the young breed and gullible voters that communal riots, in some obscure way, may break out as we get closer to elections. Uttar Pradesh has already recorded 30 cases of communal flare-ups, three of them serious riots.
That's eerie, more so because it's so predictable and still it's happening. Such a shame for a nation where a woman, a dead woman, is used, abused and exploited to the fullest for political gains.
In the full glare of the public two mainstream parties are ensuring that the Ishrat Jahan encounter case helps them win votes. The unfolding events in Uttar Pradesh says, "Muslim tushtikaran aur Hindu dhurvikaran ho jaye," meaning let Muslim appeasement succeed in favour of the Congress and let the consolidation of Hindu votes happen in favour of the Bharatiya Janata Party.
Since the last one year it is being written that the Congress and BJP are trying their best to turn the Ishrat Jahan case into one as big as the Shah Bano case, or at least as a catalyst to change the mood in the Hindi hinterland including Uttar Pradesh and Bihar. The BJP and defenders of the encounter killings of Ishrat Jahan and three others appear stripped of any virtue when they tell us to focus on her terror links and cunningly ask us if she was a terrorist or not.
But, Digvijaya Singh's repeated assertions in an interview to Arnab Goswami -- "Give me an instance when Digvijaya Singh has asked if Ishrat is a terrorist or not" -- is a dangerously smart line. It's like saying, 'Have I anytime said if Digvijaya Singh is into defence deals?'
You commit nothing, you allege nothing, and still you send out some convoluted message to keep yourself in the headlines. In the TV interview by not going into Ishrat's terror link, Singh tried to appease not-so-secular Congress voters too.
Singh is playing a big, deep game within his party. That he has substantial if not full backing from Rahul Gandhi is known, but he very cleverly stretches Rahul's mandate to his own advantage.
New equations are in the making around Rahul Gandhi, in and around 24, Akbar road and inside 10, Janpath. Singh has taken a bold initiative to articulate political strategies suitable to the Congress. He speaks against the BJP, he gives voice in Hindi to the fears of Muslims, he takes a stand against Narendra Modi. While doing so he is also building up his own personality at a time when Dr Singh, A K Antony and P Chidambaram are searching for words and the art of communication that could touch the Congress crowds.
By all accounts Digvijaya Singh is serving the purpose of Rahul Gandhi where the latter can push himself into the orbit over Modi, but he is also pushing his own case by his brazen tweets and bold assertions to get equal with Modi in the social media and in public acrimonies. Modi sells. The opposition to Modi, too, has high market value and here is available a huge political space that Singh wants to own.
Digvijaya Singh is helping Rahul cover his vulnerabilities. Like, Rahul is in no position to articulate on the Ishrat Jahan case or say if Reliance should benefit by a huge hike in gas price. Singh keeps the pot boiling for the Congress and also gets some mileage credited to him personally when his colleagues in government are firefighting various scams.
But, there is a limit to all games. Singh can get an edge over his colleagues only if he fights openly and transparently to see that Intelligence Bureau officer Rajendra Kumar is treated professionally, and if the CBI needs to charge him he should be charged.
The Congress and Singh can't get full political advantage from backing Ishrat's mother's strong case for justice, and also keep silent if the CBI files a charge-sheet which irretrievably weakens the criminal case in the encounter.
One cannot allow the sword of Ishrat Jahan case hanging over Shah and Modi and also let the case get weakened because IB is up in arms against the CBI. The buck must stop somewhere.
More than Modi it's Singh's test when the supplementary charge-sheet in the Ishrat Jahan case is filed.
A senior security expert, who is part of the top security set-up in New Delhi, in reply to this correspondent's question if Rajendra Kumar will be arrested soon, told Rediff.com, "The entire CBI case on Ishrat Jahan is based on hearsay."
Reportedly, this security officer's views on the subject are similar to the PMO's. In that case, why is Digvijaya Singh not fighting his own party-men and his own government before he takes on the Sangh Parivar?
The bottom-line in the furious debate over the Ishrat Jahan case is that the families of all the four must get justice, but who will fight the political battle for justice? Certainly you can't trust the Congress or the BJP. Both have developed a huge vested interest in Ishrat Jahan's encounter case.
Singh's cleverness is a constant reminder of that.