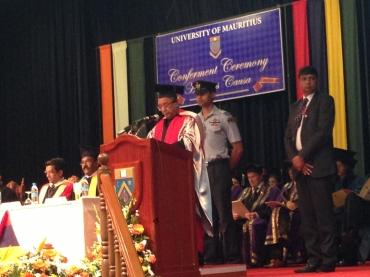 President Pranab Mukherjee was on Wednesday conferred the honorary degree of Doctor of Civil Law by the University of Mauritius. In a ceremony attended by President Rajkeswur Purryag and Prime Minister Dr Navinchandra Ramgoolam, Mukherjee was conferred the honour by Sir Ramesh Jewoolall, chancellor of the university.
The honorary vice chancellor, who conferred the doctorate on Mukherjee, variously described the Indian President as the "Congress party's trouble-shooter" and a "man for all seasons".
He said, "We are graced by the presence of a great personality today."
In his speech, President Mukherjee said investment in education continues to reap rich dividends for Mauritius and "has been one of the reasons for the praiseworthy level of development we see in Mauritius today".
Pointing out that cooperation in the field of education has always been an important dimension of the bilateral relations, Mukherjee said, "Nearly 100 scholarships are offered annually to Mauritian students to pursue under-graduate, post-graduate and research studies in various streams in India, in addition to 290 slots for short-term courses."
He added, "In recent years, we have seen an upswing in the number of Mauritian students availing of these scholarships," -- words that must have come as music to the ears of the student and academic community gathered for the event at the university's convocation hall.
Image: President Pranab Mukherjee addresses the audience after receiving a honorary doctorate at the University of Mauritius | Photograph: Saisuresh Sivaswamy