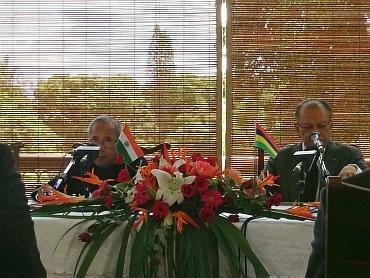 President Pranab Mukherjee on Tuesday met with Mauritian Prime Minister Dr Navinchandra Ramgoolam at the latter's official house, Clarisse House (but which he doesn't stay in, choosing to reside in his private home instead). The meeting, which lasted over 45 minutes, saw the two sides reinforce and re-establish their close ties.
Addressing the media after the talks and after two sides had signed three memorandums of understanding, Ramgoolam said the "fruitful discussions" were a testimony of "exceptional bonds" between the two nations.
The double tax avoidance convention, which cast a shadow over the ties with India feeling that it was loaded against its interests and causing a major loss of revenue, also came up for discussion between them, Ramgoolam said. The DTAC was coming to an end, he pointed out, and the two sides were working on finding a solution "satisfactory to both".
The Mauritian prime minister also thanked India for its economic assistance in the economic field and expressed gratitude for the agreements the government of India had with the island nation.
In his statement, President Mukherjee, who is in Port Louis to attend the 45th anniversary of the independence of Mauritius, spoke about the "deep-rooted ties of history, culture, kinship, traditions and common values" between the two sides. Pointing out that Mauritius was the second nation he was visiting after becoming President, he said it "reflects the importance that India attaches to its relationship with Mauritius."
Referring to the DTAC, which has turned contentious of late with India expressing its unhappiness over the loss of revenue caused to it by corporates exploiting its provisions, Mukherjee said the working group on the DTAC, which has met twice in the last one year, "have provided an opportunity to both sides to discuss all issues with the aim of finding a mutually acceptable and beneficial outcome". The next meeting of the working group is slated to be held in New Delhi.
Mukherjee said India was committed to the safety and security of Mauritius and will continue to work towards enhancing bilateral cooperation in the security arena. Iterating that Indian naval ships will continue to undertake joint anti-piracy and exclusive economic zone surveillance exercises with Mauritius, he said India was ready to assist the island nation on security-related issues.
At the official banquet hosted for Mukherjee on Monday night, Ramgoolam waxed eloquent on India and the Indian head of state, who he welcomed with the words 'su-swagatam'. "It would take me many days to speak of all your achievements. Suffice perhaps for me to say, Excellency, that you carry upon your shoulders the grandeur of Bengal and the proud flag of India," the Mauritian prime minister said.
On the historic ties between the two nations, Ramgoolam said, "It is said that no nation can move forward, if it does not look backward to its ancestors. India and Mauritius share more than a common ancestry. We share the same ocean. We also share your most sacred river, the Ganges -- we call it Ganga Talao."
Pic: President Pranab Mukherjee with Mauritian Prime Minister Dr Navinchandra Ramgoolam
Photo credit: Saisuresh Sivaswamy