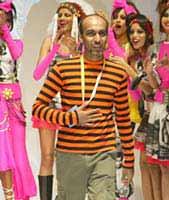 Manish Arora is a happy man. The designer has tied up with Maria Luisa of Paris for their Spring-Summer 2004 collection. The four exclusive Maria Luisa stores stock the likes of John Galliano, Alexander McQueen, Vivien Westwood, Yohji Yamamoto, Martin Margiela and Helmut Lang. Names that spell high end, cutting edge fashion.

Maria Luisa says, "We liked Manish for his sense of humour and his style. Most Indian designers don't have a sense of humour. Manish does. And his signature is very individualistic."

She particularly liked Arora's fluorescent pinks, his bags emblazoned with the words Fish Fry and the strong Bollywood influence in his work. "That," says Luisa, "told us there is a strong voice here. His style is pretty individualistic and this is just the kind of stuff I can picture anywhere in any [fashion] house of the world, right from New York to Milan to Paris."
Luisa has earmarked a few pieces from Arora's collection at the India Fashion Week 2003. "We will need roughly about 30 to 40 pieces. The first shipment should arrive in January and Manish will show his clothes soon after," she says.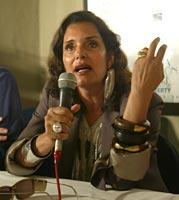 To be featured under his own label in an exclusive Paris store is a dream come true for Arora. "I'm over the moon. I always thought these [Galliano, McQueen] were my idols. To be right next to them is something out of this world," he says.

Luisa claims, "Paris is at its best in the two weeks in March and October [when Paris has its fashion week]. The rest of the time, Paris is a showcase. And Manish will be right there. We will make sure he is featured prominently and has his own showing. We are not a department store or a mall. We have people coming to our stores during the fashion week to see which designer we have featured. We are a leading fashion house."
She thinks India will remain in fashion's focus. "India is the biggest market for clothes and designs for the next 10 years. I say keep an eye on your own market. After 9/11, it has not been easy for Paris and Europe. It's not a glory situation for us. But India is moving ahead. We are behind. Don't look at us; look at India and its potential."
Have you checked out...
The man from Gadchiroli
The J J Valaya collection
Scandal rocks India Fashion Week
Backstage with Tarun Tahiliani
Photos: Jewella C Miranda