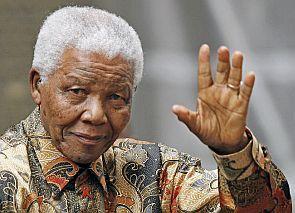 Former South African President Nelson Mandela has spent his 50th day in hospital with his condition still critical battling a recurrent lung infection, even as a media report said that he has undergone a "minor" medical procedure and survived two "scares" in the past week.
Presidential spokesperson Mac Maharaj said yesterday: "We appreciate that he has been in hospital for fifty days already, but we must take solace that he is being attended to by the most formidable and competent medical teams that we could put together, so he is under good care. He is responsive and we should take heart from that."
The presidency reiterated that 95-year-old Mandela's condition remains critical but stable.
A small steady stream of people continued to visit the Pretoria hospital where Mandela is receiving treatment for the life-threatening lung infection.
Meanwhile, CBS news quoting multiple sources said that, "Nelson Mandela underwent a surgical procedure to unblock his dialysis tube but it was described as minor but given the fact that he is critically ill any medical procedure is a cause for concern."
The American CBS network report quoting sources also said that, "In the past week there were two scares, on one occasion Nelson Mandela was not responding to his medicines and on another his life support machine showed him in distress."
Mandela, who turned 95 on July 18, was admitted to the Pretoria hospital on June 8. He has been hospitalised four times since December.
Mandela, South Africa's first black president, is regarded the founding father of the country's multi-racial democracy.
Mandela has a long history of lung problems, dating back to the time when he was a political prisoner on Robben Island during apartheid. While in jail he contracted tuberculosis.
Mandela is revered for leading the fight against white minority rule in the African country and then preaching reconciliation despite being imprisoned for 27 years.
He served as the country's president from 1994 to 1999. He left power after five years as president.
Mandela, respected across the globe as a symbol of resistance against injustice, was awarded the Nobel Peace Prize in 1993.
He retired from public life in 2004 and has not been seen in public since the football World Cup final in 2010.