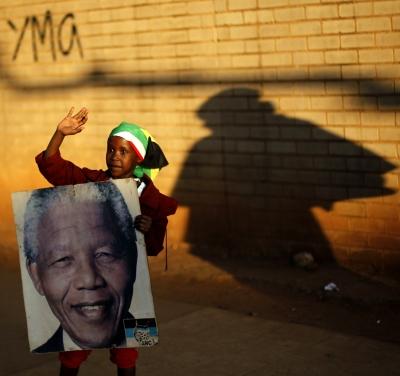 The presidency of South Africa has denied reports about former president Nelson Mandela being in a permanent vegetative state.

According to the report, the statement from the presidency came after court documents stated that Mandela was in a 'permanent vegetative state' and his family had been advised to turn off his life support machine, News24 reports.

Spokesperson Mac Maharaj said that President Jacob Zuma visited Mandela in the hospital and he is in a critical, but stable condition. Maharaj further added that Mandela was under the care of a multi-disciplinary panel of medical experts drawn from the South Africa Military Health Services, attending him on a 24-hour basis.

Wesley Hayes, family's lawyer in dispute with Mandla, later said that a certificate of urgency was filed in terms of the practice of the court, the report added. Meanwhile, specialists at a Pretoria hospital have clarified that it is impossible to wean Mandela off the ventilator.
News24 reports that court papers stated that Mandela is in a permanent vegetative state and that doctors suggested his life support should be turned off. Mandela has been in the Medi-Clinic Heart Hospital since 8 June, when he was admitted with a recurring lung infection.
The chief executive of the Faculty of Consulting Physicians of South Africa said that it can be difficult for an elderly person to recover after being weaned off from mechanical ventilation.
Dr Adri Kok, who has no connection with Mandela's treatment, reportedly said that putting a person on life support machines indicates a very poor prognosis for recovery because it means that the person is either too weak or too sick to breathe on his own, reports added.
Mandela's wife, Graça Machel, said his condition was sometimes uncomfortable but seldom in pain.

Denis Goldberg, who was convicted along with Mandela, visited him on Monday and said that he is definitely not unconscious and could still recognise people.

Image: A girl waves in front of her mother's shadow as they leave the Medi-Clinic Heart Hospital, where former South African president Nelson Mandela is being treated

Photograph: Siphiwe Sibeko/Reuters