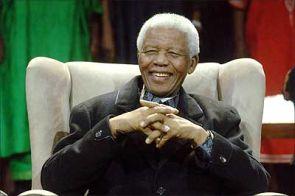 South Africa's revered anti-apartheid icon Nelson Mandela was "responding well to treatment" following a "difficult few days" after being readmitted to a hospital with a recurring lung infection.
The 94-year-old former president is spending his sixth day in the MediclinicHeartHospital in Pretoria suffering from a recurrent lung infection. This was his fourth hospitalisation since December.
President Jacob Zuma on Wednesday told parliament that the African nation's tallest leader was doing better.
"I am happy to report that Madiba is responding better to treatment from this morning," Zuma said using the clan name by which Mandela is widely referred to in South Africa. "We are very happy with the progress that he is now making, following a difficult last few days."
Mandela's family, in a separate statement, said they had "been deeply touched" by the concern shown for the ailing leader. "The family have been heartened by the overwhelming messages of support from the public," the family said.
Mandela's wife Graca Machel, daughter and two granddaughters yesterday visited the hospital.
Mandela had a long history of lung problems, dating back to the time when he was a political prisoner on RobbenIsland during apartheid. He contracted tuberculosis in 1988 during his 27 years in prison.
In December, he was admitted for 18 days for treatment of the lung infection and surgery to extract gallstones. It was his longest stint in hospital since his release from prison in 1990.
In March, he was admitted for an overnight scheduled check-up before returning that month for 10-days.
Mandela, who turns 95 next month, has not been seen in public since the World Cup final in South Africa in July 2010.
Mandela, one of the world's tallest statesmen, led the movement to replace the apartheid regime of South Africa with a multi-racial democracy.
Mandela served as South Africa's first black president from 1994 to 1999. He won the Nobel Peace Prize in 1993.