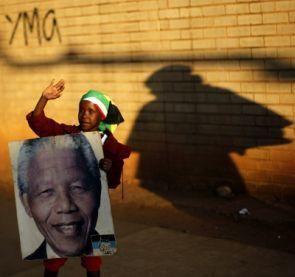 Nelson Mandela's grieving family today thanked people for their support during the peace icon's long health challenges and said they are "overwhelmed" by the global outpouring of heartfelt tributes on his death.
"I am sincerely grateful for the national and international support that our family received during Madiba's (Mandela's clan name) long health challenges. We in the family recognise that Madiba belongs not only to us, but to the entire world," said Mandla Mandela in a statement, the first public comment from the former president's family since his death.
"The messages we have received since last night have heartened and overwhelmed us. I would also like to extend my sincere gratitude to the South African government, the African National Congress and the doctors in charge of Madiba's health during all his long health challenges," he said.
Mandla said Mandela is an embodiment of "strength, struggle and survival, principles that are cherished by humanity".
"As a grandfather, we have all known him as a kind-hearted, generous and wise person who was always prepared to offer us advice on how to be good members of our communities.
"All that I can do is thank God that I had a grandfather who loved and guided all of us in the family," said Mandla, who is chief of the remote village of Mvezo where Mandela, South Africa's first black president, was born in 1918.
"We are now preparing to celebrate his contribution to this country, to the world and to our family. Celebrating his long life is the best accolade we can give him. Celebrating his contribution to society will make him smile in his resting place. We look forward to continuing our interaction with him as one of our beloved ancestors," Mandla said.
Mandela died at his home in Johannesburg on Friday at the age of 95 after a protracted illness.