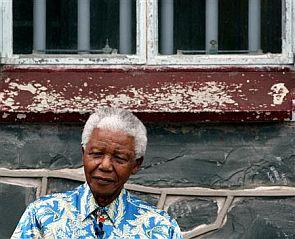 I can actually say I know what it's like to be around someone who was literally a living legend, says film director Kabir Khan.
Nelson Mandela has always been one of my greatest heroes.
Meeting him was an amazing experience for someone so young. I was barely 22 years old, just out of film school and had just started doing international documentaries.
In 1995, I got the opportunity to assist Saeed Naqvi, a senior journalist who was shooting a documentary in South Africa on the role of people of Indian origin in the African National Congress.
There were many such stalwarts in the ANC who were Mandela's colleagues and who had gone to jail (after the infamous Rivonia trial) with him.
People like Ahmed Kathrada and Mac Maharaj were not just very active in the political struggle against apartheid; at a personal level, they also helped Mandela.
Everyone knows the exciting tale of how Mandela smuggled his autobiography out of prison.
He would write parts of his autobiography on little chits of paper that would be hidden in matchboxes. Then people like Mac Maharaj would throw them over the wall of the RobbenIsland (maximum security) prison.
Someone would be waiting on the other side of the wall to pick up these missives and that how the entire book was smuggled out.
There were many such fascinating stories about his association with Indians and this was the focus of our documentary.
We were waiting outside his house for the interview. I was wearing a T-shirt that said 'Vote For Mandela'.
I still remember, he came out and it was just… I mean, I don't think I have met a more charismatic man.
He was physically very tall and had an overpowering presence… But, more than that, it was the aura that he had around him. It made him look like a giant. It was the sheer force of his personality that projected him in that way.
As he stepped out, he saw my T-shirt. And, before he even greeted anybody, he smiled that famous smile of his -- the one that made his eyes crinkle up -- and said in his booming voice, "You could go to jail for that" (laughs).
In the interview, he reiterated the great historic connection that ANC has had with India and Indians. He discussed the role of Indians in the struggle against apartheid and talked about people like Kathrada, Maharaj and others who had played a huge role in that struggle.
He talked about the kind of political inspiration the ANC drew from India's struggle against the British.
Mandela's initial fight against apartheid was violent -- he took to arms and carried out bombings -- and he was termed a terrorist by the white South African regime. But then, he changed his approach and took to non-violence.
Later, he autographed my T-shirt. I was carrying a copy of his autobiography and he autographed that as well.

During that interview, I was literally pinching myself to remind myself that this was not a dream.
He was so jovial, so humorous, so ready to smile… There was no trace of bitterness against those who had committed those terrible atrocities against him, his family and the citizens of his country.
Despite the fact that he had gone through so much in his life, and was then in a position where he could retaliate, there was no trace of bitterness.
Even after so many years, what really stands out is the sheer aura of the man. We spent almost four hours with him and, every second of those four hours, you could feel that aura.
We read about these things, we talk about the fact that there is something called charisma, that there is something known as an aura. But that was the only time in my life that I physically experienced it.
I can actually say I know what it's like to be around someone who was literally a living legend.
It was a fascinating encounter with one of the living legends of our world.
Image: Nelson Mandela, and (above) Kabir Khan.
Film director Kabir Khan spoke to Savera R Someshwar.