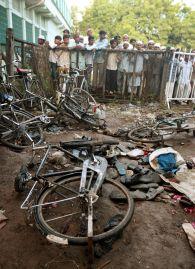 The Bombay high court on Friday dismissed petitions filed by Ramesh Upadhyay and Sadhvi Pragya Singh Thakur, both accused in the 2008 Malegaon bomb blasts case, questioning probe by National Investigation Agency and also challenging the constitutional validity of the NIA Act.
Justices S C Dharmadhikari and S B Shukre, in their one line order, orally pronounced that they did not find any merits in both the petitions. A detailed order would be given later. The judgement was delivered through video conference link in the conference room of the Bombay high court.
Justice Dharmadhikari was at Mumbai end while his brother judge Justice Shukre was in Nagpur bench of the high court. The petitioners had argued that the Centre cannot hand over the probe to the NIA because the case had already been investigated and chargesheet filed.
They argued that if the government wanted to transfer the probe to the NIA, then it should have taken permission from the appropriate court or the state. They argued that the Union government had not followed proper procedure as per law to hand over probe to the NIA.
The NIA cannot investigate without the consent and permission of the Maharashtra government because the offence was committed in the state. In this case, investigation was a state subject and hence permission had to be obtained from the state to probe the case, the petitioners argued.
The petitioners also challenged the constitutional validity of the NIA Act saying it requires the consent of the state government or direction from the high court or the Supreme Court to probe a criminal case.
There is no provision in NIA Act which allows or empowers the Centre to hand over probe to the NIA, they argued.
The Union government, on the other hand, argued that under the NIA Act, the Centre can suo motu hand over probe to the NIA if it comes to conclusion that scheduled offences under the Act had been committed.
In September 2008, bomb blasts rocked the textile city of Malegaon in Maharashtra, killing seven persons and injuring many others.