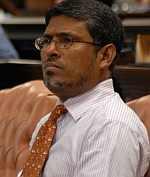 The death of a member of the parliament and politician of the ruling party in the Maldives has stirred up the existing political turmoil in the South Asian country, thus attracting international attention towards the Indian Ocean archipelago.

Afrasheem Ali, 46, a lawmaker from Ungoofaru constituency of Maldives and a politician from the Progressive Party of Maldives, died from knife wounds on Tuesday, after being stabbed by unknown assailants outside his home.
Several media, including the Wall Street Journal, has reported that Ali, who was also an Islamic scholar with moderate religious views, was murdered after he had wrapped up a television interview around Monday midnight.
Ahmed Mahloof, a PPM spokesman, told the media on Tuesday that it is possible that the assailants had followed Ali home. Ali's wife had found his body on the steps of their house. Mahloof said that Ali's throat and part of his head were cut off. "He also had wounds on his back and stomach," Mahloof added.
Ali was buried on Tuesday. He is survived by his wife and three children.
Mahloof also informed the media that the Maldives police have held a man in connection to the killing.
One of the first responses about the murder came from the Geneva-based Inter-Parliamentary Union on Tuesday. Calling the death "the latest and most tragic act of violence in a country that has been in a political crisis since the start of the year", IPU recognised that Ali "is the first MP to have been killed though constant political tensions in the Maldives have led to many serious outbreaks of violence."
IPU called for "all violence to end and for all political sides to remain calm." It also expressed its serious concern following reports that "other MPs are receiving death threats, including through social media channels such as Twitter."
The release from IPU also read, "A number of Maldivian MPs are registered with the IPU committee on the human rights of parliamentarians because of the violence, intimidation and political harassment they are suffering. IPU will be monitoring them and following up on developments in Maldives very closely to help ensure their safety."

"IPU is urging that full protection be given to MPs in the light of these developments," said IPU Secretary General Anders B Johnsson. It is also calling for speedy consideration of the Privileges Bill currently before the parliament and on which IPU is providing technical expertise. This bill, when passed by parliament, would provide more legal protection to MPs in performing their duties.
The killing has further turned the political waters murky in Maldives where former president Mohamed Nasheed, the country's first democratically elected leader, was ousted in February, this year, through what most media have referred to as a "military-backed coup". However, the incumbent government had then said that Nasheed had resigned. 
Following his forced removal from the president's office, Nasheed had time and again claimed that his life is in danger.
In July, Nasheed supporters of the Maldivian Democratic Party took to the streets of Male, the capital of Maldives, for days, questioning the legitimacy of the present government.
In September, a court ordered that Nasheed be kept in Male till he is tried for "misusing his presidential powers to order the arrest of a senior judge" when he was in power.
In his defence, Nasheed claimed that the judge, whom he had ordered to be arrested, was intentionally blocking a corruption investigation against Mamoon Abdul Gayoom, the former president of Maldives, who ruled the nation for 30 years before Nasheed came to power in 2008.
Although Nasheed was supposed to face the court on October 1 on these charges, he skipped the trial and managed to flee Male. He will campaign for elections scheduled for next year, according to MDP spokespersons.

Image: Afrasheem Ali