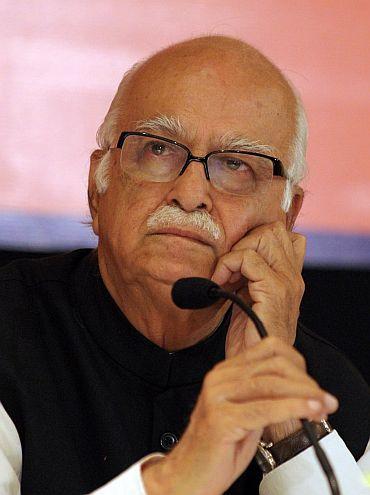 One of the main accused, wanted in connection with planting of a pipe bomb allegedly targeting senior Bharatiya Janata Party leader L K Advani in Tamil Nadu in 2011, was on Monday arrested at Batalagundu in this district, the police said.
Mohammed Haneefa, allegedly involved in the making of the crude pipe bomb, was arrested by a team of crime-branch Criminal Investigation Department police who raided his hideout on a tip-off. One person who was staying with Haneefa managed to escape, they said.
The police said they seized explosive materials, including 1 kg of detonator powder, which were identical to the stuff used in the pipe bomb, from Haneefa.
He was brought to Madurai and produced before a judicial magistrate court which remanded him to judicial custody. Haneefa is among the three prime accused in the case and two others, including "Police" Fakruddin, were absconding, the police said.
With this, police have arrested eight persons, including seven who allegedly provided help to the main accused including in procuring raw materials for making the bomb.
The pipe bomb, planted under a bridge at Aalampatti near Tirumangalam, about 30 km from Madurai, was found and defused hours before Advani's 'Jan Chetna Yatra' was to pass through the route on October 28, 2011.
The police said they also seized from Haneefa a photograph of a local Vishwa Hindu Parishad functionary who has been handicapped following a leg injury suffered in an attack allegedly by a Muslim outfit worker in the past.