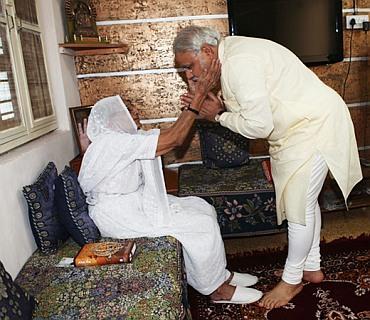 Hiraba Modi, the proud mother of Narendra Modi, on Friday expressed confidence that her son will lead the country towards development as the next prime minister.
Helped by two assistants, Hiraba offered prayers to the Sun God as news of her son romping home with an impressive victory came in.
"He has my blessings and he will lead the country towards development," she said when asked to comment on the counting trends.
The Bharatiya Janata Party-led National Democratic Alliance looks set for clear majority, with Modi set to win both Varanasi and Vadodara constituencies.
BJP President Rajnath Singh spoke to Modi and congratulated him.
Commenting on the available trends, Rashtriya Swayamsevak Sangh General Secretary Ram Madhav said, "By voting for BJP, people have approved the popularity of Narendra Modi. Public wanted to take the country out of misgovernance."