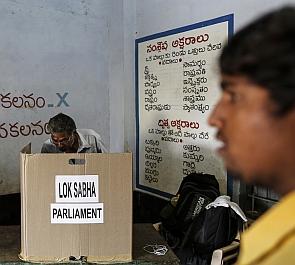 Voters from the Gudivada assembly constituency refuse to cast their ballot, protest outside offices of political parties. Vicky Nanjappa reports
As Andhra Pradesh's crucial Seemandhra region goes to polls, the Gudivada assembly constituency in the Krishna district witnessed a rather peculiar protest on Wednesday. Crowds gathered not outside polling booths, but at several political party offices.

"Give us money and only then will we vote," they demanded.

The protest started around 10 am with agitated voters arguing with party workers that there was " selective treatment" as far as distribution of money was concerned. "Many others were given cash, but why were we left out," asked the crowd of 50+ , who staged a dharna.

Special Coverage: Election 2014
Most voters thronged the Telugu Desam Party, which surveys predict is in a tight contest with the YSR Congress in the bifurcated state. TDP's K Venkateshwara Rao is a three-time winner from the Gudivada constituency, but is now contesting from a YSR Congress ticket. He is up against R Venkateshwara Rao from the TDP and A Subbu Rao.
The agitation has left political parties red-faced with workers trying desperately to pacify voters. Allegations flying are that a middleman did not deliver the cash to voters. The leaders want to put a stop to the protests before it catches the eye of the Election Commission, an insider told rediff.com.
Andhra Pradesh accounted for nearly 47.5 per cent of the nationwide cash seizures until on Monday. Rs 132.67 crore illegal cash was recovered from Andhra, against the total cash seizure of Rs 279.33 crore from across the country.
Polling in other constituencies in Seemandhra was brisk. "By 9 am -- in the first two hours of polling -- about 15 per cent voter turnout was recorded," Chief Electoral Officer Bhanwar Lal said.
There are indications that polling is expected to pick up post 1 pm.

Image: A man casts his vote as another waits at a polling centre in Andhra Pradesh

Photograph: Danish Siddiqui/Reuters